Alan Weiss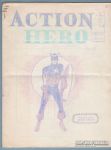 Ama-hero comics starring Mercury II, the Flag and the Golden Avenger. Also contains an article on Superman by Fred Landesman.
Characters appearing in fan art include Captain America, Superman, Batman, Flash and Giant-Man.
Ditto printed.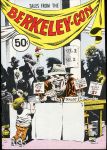 "Tales from the Berkeley-Con," underground comic format program book published by Last Gasp/Rip Off Press.  Wrap-around cover by Rand Holmes.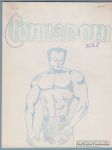 Contents include: article on the Heap; a retelling of "Mandrake the Magician and the Midnight Monster" Big Little Book; "The History of Flash Comics" article; Airboy info and artwork; commentary on the new element of fandom, comic dealers; more.
Characters in fan art include: Sub-Mariner, Flash (Golden Age)
Ditto, 23 pages (most are one-sided), top-stapled.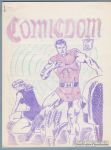 Contents include: "The Comics Market Today" article; three pages of parody covers (Fantastic Four, Atom, Superman family); John McGeehan's list of known comics fanzines; article on the Phantom; more.
Characters in fan art include: Phantom, Magnus, Robot Fighter
Ditto, 20 pages (17 sheets, most are one-sided), corner-stapled.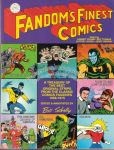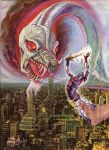 Interview with Howard Purcell, John Fantucchio portfolio, NY Con 1970 report, Multicon 1970 report. 
Oversized: 9 x 12 inches.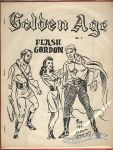 Published in 1964 or '65?
[Note: At least one image in this entry was found online (probably at an auction site) and saved for personal use. And then the Database project came along! If you recognize your image we'd like to have your permission and would love to give you credit for your work. Please contact us through Site Info > About in the main menu up top.]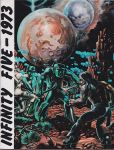 Features interview with Richard Corben.  A color print by Bernie Wrightson ("The Cryptics") was inserted as a bonus.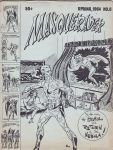 Final issue.
Len Wein's contribution is a short interview with Jack Kirby.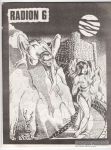 Interviews with Tom Batiuk, Ron Goulart and Michael Whelan; article on Marvel's Eternals; lots of art.
Side-stapled.
United Fanzine Organization memberzine.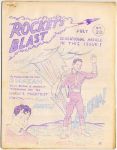 All-ditto issue.  (8 pages blank.) 
Editorial features include:
Captain Marvel cover by Howard Keltner.   "THE FEATURE" profiles Dave Bibby.  "ROCKETEER GOSSIP" by Rick Weingroff.  "Justice by Lightning," article about Captain Marvel by John Ferrazzano with art by P. Alfieri (and "mastered" by Buddy Saunders).   Green Lama Pin-Up by Raymond Miller.
"The Rise of the Atomic Knights" by Walt Taylor with art by Alan Weiss.   "Captain Marvel Comic Books from Spain" by John McGeehan.  "THE BEST OF S-F" — Bob Harner 3rd reviews "Some Will Not Die" by Algis Budrys.  "LETTERS TO THE EDITOR" from Stan Lee, letter from Jerry Bails (about NebraskaFan Meeting), Carter De Paul, Robert Malisani, Bill Spicer, and Fred Bronson. 
Ads for: 
BLACK STAR #1
COMICDOM #1 
FIGHTING HEROES #4
KOMIK HEROZ OF THE FUTURE #2
STAR #1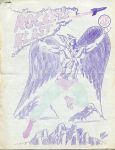 All-ditto issue.  (4 pages blank.)
Editorial features include:
Hawkman cover by Alan Weiss.  "The Atom" by Sherman Howard with 2 pages of color (ditto) pin-ups of the Atom (both Golden & Silver Age) by Alan Weiss.  "THE FEATURE" profiles Margaret Gemignani.   "Comic Books Controversy, Crisis and Censorship" — part 1 of a long article written/laid out/lettered by Bill Spicer.  "An Interview with Leonard Darwin" of the Comics Code Authority by Bill Spicer.  Planet Comics #52 repro.   "News from DC."   "THE BEST OF S-F" by Bob Harner 3rd.  "THE ROCKET ROLL" of new subscribers includes George R.R. Martin.  "BLASTS FROM THE READERS" includes LOCs from Jerry Bails, Fred Bronson, Mike Vosburg, Mike Baker, Jim Rossow, Marvin Wolfman, George R. R. Martin, Marc Nadel, and Phil Leibfred.
Ads for:
ALIEN (The New International Fanzine - sold thru Bob Bell)
CHARACTER GET TOGETHER 1
COMI-RAMA 2
FANTASTIC CREATURES 2
FIGHTING HEROES 7
HORROR SCREEN WORLD
KOMIX ILLUSTRATED 11
THE COMIC HERO 1
THE COMIC WORLD NEWS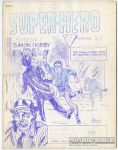 "Special Simon & Kirby Issue"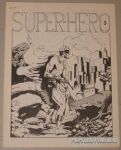 What Is This Site?
A virtual archive of mini-comics, fanzines, small press comics, newave comix and related items. The physical archive, housed at PF headquarters, is being built with personal acquisitions as well as generous donations from supporters. This project is most definitely a work in progress.