Glen Johnson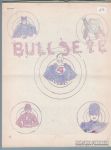 Contents include articles on Captain Nazi, the Justice League of America, Hour-Man and the Anti-Crime Squad; fiction; sale lists; artwork; more.
Dated Dec. 1962 - Jan. 1963.
Ditto, corner-stapled.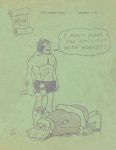 Membership includes Jerry Bails (Central Mailer), Paul Gambaccini, Bob Jennings, Daniel Alderson, John & Tom McGeehan, Richard Kyle, David Castronuovo, Marc Nadel, Pete Jackson, David Kaler, Pete Phillips, Duncan Robertson, John Ryan, Elliot Brill, Ronn Foss, Dennis Richard, Joe Hehn, Bill Spicer, Howard Keltner and Al Kuhfeld.
Cover by Biljo White and Jerry Bails
Contributions include Agent X Reporting (Bails), Views and Verdict (Nadel), The Rambling Roamer #1 (Jackson), Listen Here! (Gambaccini), Small Talk (Johnson), Data Sheet (Bails), Checklist of Features in Comic Books of the First Heroic Age (Keltner), An Index of Periodical Literature Pertaining to Comics (Brill) and an ad for The Official Guidebook to Comics Fandom (Spicer)
Back cover is blank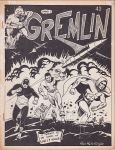 Includes interviews with Joe Kubert, and Murray Boltinoff.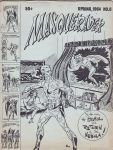 Final issue.
Len Wein's contribution is a short interview with Jack Kirby.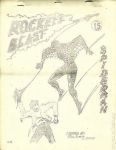 22 one-sided mimeograph/ditto pages (plus one additional page printed on 2 sides).
Editorial features include:
Spider-Man cover by Buddy Saunders.  "ROCKETEER GOSSIP" by Rick Weingroff.  "Wanted: Dead or Alive" by Bernie Bubnis.  "THE COMIC REVIEWER" by GB Love (Amazing Spider-Man #1) and Steve Perrin (2 separate columns).  An article about Lev Gleason's "Daredevil" written/illustrated by Rick Durell.  "THE BEST OF S-F" — Bob Harner 3rd on the first four ERB paperbacks published by Ace.  "THE FEATURE" profiles Steve Perrin.  Art by Raymond Miller and Glen Johnson.  "LETTERS TO THE EDITOR" from L.L. Simpson, Dan Fleming, Paul Seydor, and Bill Regier. 

All-ditto issue.  (6 pages blank.)
Editorial features include:
Miss Liberty cover by Buddy Saunders.   "THE COMIC REVIEWER" by GB Love.  "THE BEST OF S-F" — Bob Harner 3rd reviews "Brain Twister by Mark Phillips.  "Frontline Combat" article by Bill Spicer (with excellent ditto tracing of Frontline Combat #1 by Spicer).  "Man of Iron" article on Robotman by Glen Johnson with art by Raymond Miller.  "ROCKETEER GOSSIP" by Rick Weingroff.  "COMIC READER EXTRA" by Jerry Bails.  "ROCKET'S BLAST PIN-UP PAGE" #1 by Raymond Miller.  "LETTERS TO THE EDITOR" from Jeremy Barry Jerry Bails, Richard Merkin, Buddy Saunders, Jim Hamilton, Biljo White, Robert Malisani, and Paul Gambaccini. 
Announcement of Nebraska Fan Meeting, said to be "sponsored by Jerry Bails and Biljo White" (but wasn't, which Bails states in a letter in Rocket's Blast #20).
Ads for:
COMICS: PAST PRESENT & FUTURE
FIGHTING HEROES #3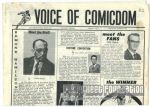 What Is This Site?
A virtual archive of mini-comics, fanzines, small press comics, newave comix and related items. The physical archive, housed at PF headquarters, is being built with personal acquisitions as well as generous donations from supporters. This project is most definitely a work in progress.