Steve Leialoha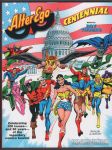 Roy Thomas on DC in the '80s; origins of Alter-Ego; tributes; The 1964 Super Hero Calendar; Fawcett Collectors of America; more.

Perfectbound book.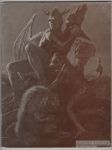 One story is lettered by Jerry Ordway.

Published in association with Inter-Fan.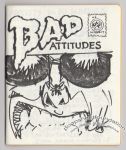 One of Roger May's souvenir minis from the San Diego Con.
3½ × 4¼"
Interiors on white and goldenrod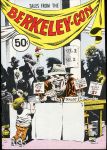 "Tales from the Berkeley-Con," underground comic format program book published by Last Gasp/Rip Off Press.  Wrap-around cover by Rand Holmes.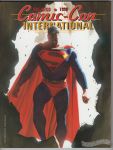 Tributes in art and writing to the Legion of Super-Heroes, Superman, Elfquest, comics for boys and girls, and Archie Goodwin.
Appearances by other characters include Bizarro Superman, Cutey Bunny, George Reeves, Christopher Reeve, Dean Cain, Justice League of America, Ralph Kramden, Jerry Siegel, Joe Shuster, Robert Redford, Sonambulo, Supergirl, Wonder Wart-Hog, Underdog, Super Goof, Mighty Mouse, Super Chicken, Darkseid, Akiko, Chronos, Mavis, Venus, Big Boy, Katy Keene, Patsy Walker, Millie the Model, Usagi Yojimbo, The Little Monsters, Melvin Monster, Spooky and Sailor Moon.
Editor: Dan Vado, Art Director: Scott Saavedra.
Roughly 8¼ x 11" (8½ x 11" trimmed)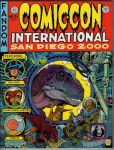 Contents include art sections in tribute to EC Comics/MAD Magazine, Charles Schulz's "Peanuts", Dinosaurs & Giant Robots, Will Eisner's Spirit and Flash & Green Lantern.
Appearances in art by William Gaines, Johnny Sokko and His Flying Robot, Frankenstein Jr., Mechagodzilla, Kona, Fred Flintstone, Ellen Dolan, Cutey Bunny, El Gato Negro, Impulse, Spark Plug, Charlie Brown, Lucy Van Pelt, Snoopy, GoGirl, Judge Judy, Quicksilver and others.
Roughly 8¼ x 10¾" (8½ x 11" trimmed)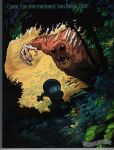 Contents include pieces on Barb Rausch and Golden Age writer Dorothy Woolfolk as well as art sections in tribute to Wonder Woman's 60th anniversary, Fantastic Four's 40th anniversary, Bone's 10th anniversary, Captain America's 60th anniversary, Carl Barks' 100th birthday and The Lord of the Rings.
Appearances in art by Bone, Wonder Woman, Huey, Dewey & Louie, Beany & Cecil, Captain America, Scrooge McDuck, Fantastic Four, Hobbits, GoGirl, Harley Quinn, Sub-Mariner, Dr. Doom, Galactus, Dragon Man, Mole Man, the Watcher, Gandalf, Bilbo Baggins, Gollum, Donald Duck, Usagi Yojimbo, Radioactive Man, Red Skull, Bucky Barnes, Baron Zemo, MODOK, Nick Fury, Giant Man, Thor, Iron Man, Falcon, Shaloman, Miss America, Cutey Bunny and others.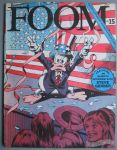 Interview with Steve Gerber and Howard the Duck is featured on the cover.
[Note: At least one image in this entry was found online (probably at an auction site) and saved for personal use. And then the Database project came along! If you recognize your image we'd like to have your permission and would love to give you credit for your work. Please contact us through Site Info > About in the main menu up top.]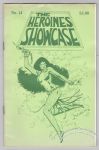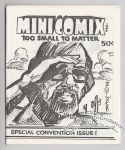 Produced at the San Diego Comic-Con.
Saddle-stitched.
There's one cartoonist I can't identify (page 11, to the right of Jane J. Oliver).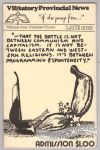 There may be more contributors than listed above.
#2135 in Jay Kennedy's Underground and Newave Comix Price Guide.
What Is This Site?
A virtual archive of mini-comics, fanzines, small press comics, newave comix and related items. The physical archive, housed at PF headquarters, is being built with personal acquisitions as well as generous donations from supporters. This project is most definitely a work in progress.