Gary Panter
Although you'd have to disassemble it to read it, folded into the cover is the infamous "Rozz Tox Manifesto".
2nd printing of 100 copies?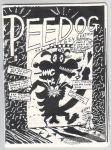 Comix by the Shit Generation, which consisted of Eddie Nukes and Jocko Levant Braniac 5 who are actually Jay Cotton (Pee Wee's Big Adventure) and Gary Panter (Jimbo, Cola Madnes).
Roughly 4¼ x 5¾".