Tom Fagan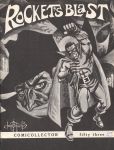 Editorial features include:
Cover by John Fantucchio.
"A Howl is Heard Through the Heavens" by Tom Fagan.   Article reprinted from Tucson Daily Citizen, Feb. 25, 1967: "Rich Lode in Old Comics." 
Article reprinted from Richmond Times Dispatch: "Comic Strip Character Being Created Here" about Graphic Showcase, publisher Tom Long,  and artists Mike Kaluta, Steve Harper, Steve Hickman, and Mike Cody. 
"THE ODDITY PAGE" by Raymond Miller. 
"BLASTS FROM THE READERS" with a letter from Duffy Vohland.
Ads for:
ADZINE 
ALTER EGO #7 and 8
ANTARES (sci-fi fanzine)
BOMBSHELL #9, 10
BULLETIN #4
COLLECTOR'S CORNER
COMIC FANTASY #1
COMIC SHOWCASE #1 (published?)
COMIC VENDOR #5
COMICS UNLIMITED
CONCUSSION #1, 2
COSTUMED HERO BONANZA
ERBDOM #20, 21
FANDOM ANNUAL #1
FANDOM CALLING #5
FANDOM-ONIUM #2 
FANTASTIC FAN FICTION #1
FIGHTING HERO COMICS Special Edition #1
FLASH COMICS SPECIAL (Raymond Miller)
FORBUSH #1
GOSH WOW #1
MASQUERADER #6
ON THE DRAWING BOARD #62
QUANTUM #1, 2
ROCKET'S BLAST SPECIAL #1 and 7
SCREEN FACTS MAGAZINE
SENSE OF WONDER #1
SERIAL QUARTERLY
SERIAL PICTORIAL
STAR-STUDDED COMICS #6, and 11
THE COLLECTOR #1 and 2
THE COMIC BLASTS #1-4
THE EYE #1
THE INNOVATOR #1
TRI-FAN #2, 3
ULTRA VIRES (published?) 
WONDERMENT #3