Bob Cosgrove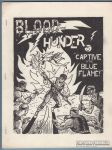 Art, comics, fiction and non-fiction. Contains two articles on UFOs/flying saucers, plus letters from Dave Szurek, Larry Herndon, Margaret Gemignani and others.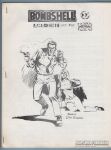 Comics, art, fiction and articles. Contents include: "Hokum?", a 2½-page column written by Gene Klein (later Gene Simmons); ama-hero comics starring The Fighters of Evil and Sonar; letters; lots of art; more.
Offset/ditto, side-stapled.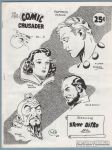 Contents include: "Steve Ditko, Man of Mystery" article; "The Day Flash Gordon Died" article; Q&A with Bob Cosgrove; "The First Inhumans" article (funny animal characters); "The First Injustice Society" article; a two-page Defender strip by Greim; letters (Mike Friedrich, Robert Gluckson, Doug Fratz, others); more.
Characters in fan art include: Flash Gordon, Ming the Merciless, Dr. Zarkov, Dale Arden, Spider-Man, Dr. Strange, Blue Beetle, Question, Captain Atom, Creeper, Hawk and Dove, Mr. A, Spectre, Deadman, Mr. Justice, Mysterious Traveler, Super Rabbit, Li'l Pan, Sir Spot, Mighty Mouse, Hawkman, Hawkgirl, Flash, Quicksilver, Defender, Hulk, Barbarella, Black Condor
Offset/ditto, 16 pages plus mailing wrapper, side-stapled.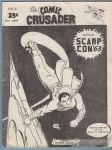 Contents include: Stan Lee's speech at the 1968 SCARP comic con (Comic Art Convention) with photo; con report (with photos of Wally Wood, Gil Kane, Will Eisner, Tom Fagan, Al Williamson, Leonard Starr, Lee Falk); Cosgrove's version of "The Conventioneers"; "The First Inhumans" (part 3 of in a series about funny animal comics); Q&A with Rich Buckler; a visual rundown of Hawkman's headgear over the years; "Mongo's Forest Kingdom" (Flash Gordon); "The Second Time Around" (Marvel's Golden Age hero revivals); a bit on The Wizard of Id; a bit on Golden Age hero Shock Gibson; Iron Man/Barbarella/Captain Marvel Jr. cosplay (costume contest); letters from Jim Steranko, Steve Ditko and others; two-page Defender ama-hero strip by Greim; more.
Characters in fan art include: Captain Marvel (Marvel/DC), Deadman, Mister Spock, Triton, Mighty Atom, Firefly, Bee-29, Atomic Mouse, Atomic Rabbit, Atomic Fox, Super Goof, Super Turtle, Sir Rodney, Captain Marvel Jr., Black Knight, Dr. Strange, Vision, Superkatt, Sub-Mariner, Human Torch
Offset/ditto, ditto pages are one-sided, side-stapled.
Two printings?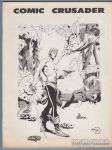 This issue is all Flash Gordon. Contents include: indepth "Flash Gordon Films" article by Royer; articles on serials "Trip to Mars" and "Flash Gordon Conquers the Universe"; roundtable discussion between Royer, Sinnott, Greim and Tony Isabella; a four-page Flash Gordon comic by Greim and Black.
Characters in fan art include: Flash Gordon, Ming the Merciless, Azura
Offset, saddle-stitched.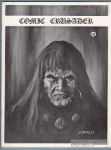 Special "Barbaric Issue". Contents include: interview with Frank Thorne; Conan fiction by Isabella; article on Edgar Rice Burroughs' Tarzan; profile of artist Carlos Gimenez (Dani Futuro); 10-page Eclipse ama-hero strip by Foss; more.
Characters in fan art include: Conan the Barbarian, Tomahawk, Dani Futuro, Thor, Slam Bradley, Tarzan
Offset, saddle-stitched.
There are two other artists I couldn't identify.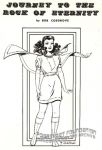 [Note: At least one image in this entry was found online (probably at an auction site) and saved for personal use. And then the Database project came along! If you recognize your image we'd like to have your permission and would love to give you credit for your work. Please contact us through Site Info > About in the main menu up top.]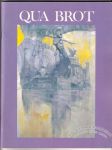 EC Comics fanzine. Contents include: interview with William Gaines; pulp art of Graham Ingels; article on Joe Orlando; article on Roy G. Krenkel (including several handwritten letters); article on Ray Bradbury's EC comics; interview with Jerry De Fuccio; Wally Wood artwork for Galaxy Magazine; article on Basil Wolverton; an index to Frazetta and Krenkel book covers; a Frazetta portfolio; more.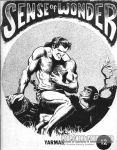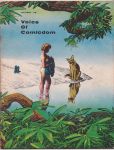 Wrap-around cover by Richard Corben, first printing of first half of "Rowlf," Corben profile by Rudi Franke, and a heavily illustrated Graphic Critique of Frank Frazetta.