Byron Preiss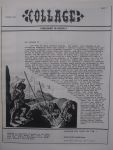 Published bi-weekly. Contains articles and reprints of comics.
Publisher later stated (Rocket Blast Comic Collector #93) that due to copyright infringement agreement, remaining copies of Collage were later destroyed. Surviving copy numbers for each issue is unknown.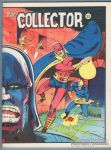 Contents include: "The Real Jack Kirby" article; "Jack Kirby: All Father Man" article; "Green Beam" comic (Green Lantern/Flash spoof) by Hanley; funny animals/Carl Barks article; profile of artist Donald Wong; The Flying Dutchman article; a memorial to Pittsburgh talk show host Ed King; crossword puzzle; letters; more.
Characters appearing include: Darkseid, Guardian, Mister Miracle, Big Barda, Captain Marvel/Tom Tyler, Warlock, Captain America, Red Skull, the Shadow, T.H.U.N.D.E.R. Agents, Dynamo, NoMan, Menthor, Superman, Batgirl, Spider-Man, Dr. Strange, Batman
Offset, some interior color, saddle-stitched.