Dwight R Decker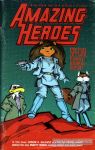 Edd Vick interviews Steve Gallacci, "Why a Duck?" (36 cartoonists on why they deal in funny animals), Rowrbrazzle portfolio section, letter from James Pugh looking for fan artists.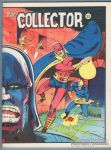 Contents include: "The Real Jack Kirby" article; "Jack Kirby: All Father Man" article; "Green Beam" comic (Green Lantern/Flash spoof) by Hanley; funny animals/Carl Barks article; profile of artist Donald Wong; The Flying Dutchman article; a memorial to Pittsburgh talk show host Ed King; crossword puzzle; letters; more.
Characters appearing include: Darkseid, Guardian, Mister Miracle, Big Barda, Captain Marvel/Tom Tyler, Warlock, Captain America, Red Skull, the Shadow, T.H.U.N.D.E.R. Agents, Dynamo, NoMan, Menthor, Superman, Batgirl, Spider-Man, Dr. Strange, Batman
Offset, some interior color, saddle-stitched.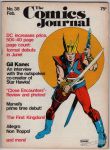 Feature on Asterix, Gary Groth interviews Gil Kane.
Roughly 8 × 10¾"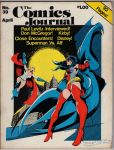 Interview with Paul Levitz, "The San Francisco Comix Scene" by Clay Geerdes.
Roughly 8¼ × 11"
United Fanzine Organization memberzine.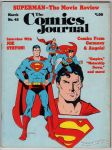 Interview with Joe Staton, indepth review of Superman: The Movie.
Roughly 8¼ × 10¾"
Other artists: Klinger (first name unknown), T. Herzog and Daly (first name unknown; Sam de la Rosa?).
Some writers/artists listed above were in the issue's list of contributors but may not be credited by the piece. It's a bit perplexing as some of the artists I can't match to art.
United Fanzine Organization memberzine.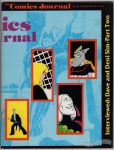 Second part of an interview with Dave and Deni Sim (Loubert).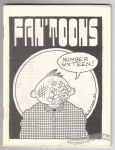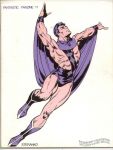 Interview with Jim Steranko.
[Note: At least one image in this entry was found online (probably at an auction site) and saved for personal use. And then the Database project came along! If you recognize your image we'd like to have your permission and would love to give you credit for your work. Please contact us through Site Info > About in the main menu up top.]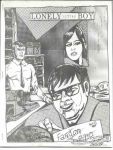 [Note: At least one image in this entry was found online (probably at an auction site) and saved for personal use. And then the Database project came along! If you recognize your image we'd like to have your permission and would love to give you credit for your work. Please contact us through Site Info > About in the main menu up top.]