Ed Artie Romero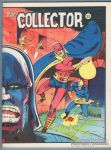 Contents include: "The Real Jack Kirby" article; "Jack Kirby: All Father Man" article; "Green Beam" comic (Green Lantern/Flash spoof) by Hanley; funny animals/Carl Barks article; profile of artist Donald Wong; The Flying Dutchman article; a memorial to Pittsburgh talk show host Ed King; crossword puzzle; letters; more.
Characters appearing include: Darkseid, Guardian, Mister Miracle, Big Barda, Captain Marvel/Tom Tyler, Warlock, Captain America, Red Skull, the Shadow, T.H.U.N.D.E.R. Agents, Dynamo, NoMan, Menthor, Superman, Batgirl, Spider-Man, Dr. Strange, Batman
Offset, some interior color, saddle-stitched.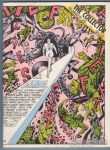 Contents include: six-page Mr. A comic and wraparound cover; biography of Ken Barr; a Tarzan art portfolio; a John Fantucchio portfolio (with color centerspread); "The By-Products of Adventure" (radio drama); biography of Joe Sinnott; a "Greenhorn" comic by Hanley (Marvel/DC parody); a brief interview with C.C. Beck; a gorgeous 10-page Hyperman comic; letters (Al Hewetson, Kenneth Smith, Joe Kubert, others); more.
Characters include: Batman, Tarzan, Superman, Deadman, Lone Ranger, the Old Witch (EC Comics), Captain Marvel, Captain Marvel Jr., Cthulhu, Doc Savage
Offset, some interior color, saddle-stitched.