Gary Gianni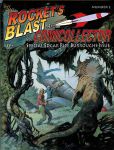 Edgar Rice Burroughs issue.
Front and back covers by Frank Frazetta.
Editorial features include: 
"Editorial" by James Van Hise.  "GB Love and Early Comics Fandom" by JVH.   "Where Have I Been, Where Did I Go and What Have I Been Doing?" by JVH.  "A Folio of Art Based on the Works of Edgar Rice Burroughs by Roy G. Krenkel, Virgil Finlay, J. Allen St. John, Bret Blevins, and Dave Hoover."   "The Golden Age of Tarzan of the Comic Strips" by JVH.   "The Russ Manning Tribute Panel" with Mike Royer, Dave Stevens, Bill Stout, (and in the audience, Bob Barrett).  "Gene Roddenberry and Tarzan of the Apes" by JVH.  "Tarzan at The Earth's Core: The Blue Book Pulp Art of Frank Hoban."   "The Gary Gianni Interview" by JVH.  
Articles illustrated with art by Howard Keltner, Don Newton, Wally Wood, Al Williamson, Lonny Fawcett, Hal Foster, Burnets Hogarth, Russ Manning, Danny Bulanadi, Dave Stevens, Dave Hoover, and Gary Gianni.
Ads for:
Dust jacket for the Canaveral Press edition of SAVAGE PELLUCIDAR
The Edgar Rice Burroughs Dust Jacket Restoration Project
THE FANTASTIC WORLDS OF ROBERT E. HOWARD 
PULPDOM (Camille Cazedessus Jr.)
and YE OLDE FANZINE SHOPPE
Ads from comics sellers:
DAVID T. ALEXANDER
RICHARD FRAZIER
TERRY'S COMICS