Greg Oakes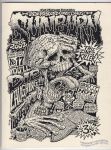 Death is the theme of this final issue.
This issue also came with two separate inserts. One is also called Sunburn #17 and the second is Zinehead, an eight-page resource for then-existing reviewzines and comics anthologies from around the world. See their separate entries for more info.
36 pages plus inserts.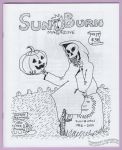 Supplement anthology to the larger anthology of the same title/issue.
This issue's contributors were all local to Winnipeg.