Jack Kirby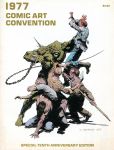 Profile of Bernie Wrightson by Bruce Jones, profile of John Stanley by Don Phelps, auto-bio by Frank Thorne, article about the annual costume parade by Jim Burns.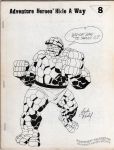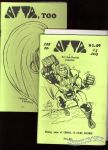 [Note: At least one image in this entry was found online (probably at an auction site) and saved for personal use. And then the Database project came along! If you recognize your image we'd like to have your permission and would love to give you credit for your work. Please contact us through Site Info > About in the main menu up top.]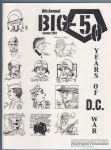 Fanzine celebrating 50 years of war comics as published by DC. The wraparound cover is loaded with cartoonist portraits and self-portraits. Many of those artists also get one- and two-page articles inside about their military experience and comics work (plus new artwork).
There's also a full-color centerspread painting of the USS Stevens by Sam Glanzman.
There may be other contributors not listed above.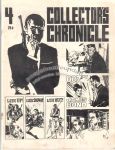 Contents include: "James Bond Code 007" feature article with plenty of photos by Folo Watkins; "The Masque of Broom Hilda" interview with cartoonist Russell Myers by Lund; "UFO's & Aliens: Fact or Fiction" article by Richard G Balaam; "Reminiscences" column by Andrew J Offutt; "Fan Scope" interview of Raymond Miller by Lund; "The Ghastly Business of Dick Tracy's Villains" article by Shel Dorf; "Mole Man: Mad or Mistreated?" by Neal S Pozner; "Rachel Welch. The Cinema, Nudity & Sex: Dirty Words?" article by Gerry Clifford; poetry by Lund and Balaam; "What Gives?" column with fanzine plugs and comments by Lund; Ad for San Diego's Golden State Comic Con 1971; Letters from John McLaughlin, Andrew Offutt, Neal Pozner; Ad for Fantagor 1 with Richard Corben's Kansas City, Missouri address.
32 pages, offset, wraparound cover.

Publisher Will Lund notes: "Richard G. Balaam was a collective pseudonym used by a few fans involved with Comic Con at that time. I don't recall who wrote what, and sometimes it was more than one writer."
Special thanks to Aaron Caplan for the detailed info on contents and contributors.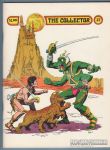 Contents include: article on Edgar Rice Burroughs adaptations from DC Comics (Tarzan, Korak, John Carter); "The Legacy of Edgar Rice Burroughs" article; a look at ERB character Ghek; an eight-page NoMan story by Pinkoski (T.H.U.N.D.E.R. Agents); portfolio of western art by Don Newton; a Greenhorn comic by Hanley (Marvel/DC parody); interview with Gray Morrow; eight-page "J Series" comic by Ditko; letters (Russell Myers, others); more.
Characters include: John Carter, Dejah Thoris, NoMan, Ghek, Darkseid, Glorious Godfrey, Desaad, Kalibak, Batman, Captain Marvel, Broom-Hilda, The Old Witch (EC Comics)
Offset, some interior color, saddle-stitched.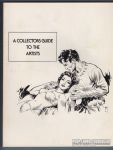 Thick, ambitious collection of checklists for works by Neal Adams, Carl Barks, Frank Brunner, Johnny Craig, Reed Crandall, Jack Davis, Steve Ditko, Will Eisner, Bill Everett, Al Feldstein, Lou Fine, Frank Frazetta, Graham Ingels, Jeffrey Catherine Jones, Mike Kaluta, Gil Kane, Jack Kirby, Roy G. Krenkel, Bernie Krigstein, Joe Kubert, Harvey Kurtzman, Russ Manning, Gray Morrow, Mike Ploog, Barry Windsor-Smith, Jim Starlin, Jim Steranko, Alex Toth, Al Williamson, Basil Wolverton, Wally Wood and Berni Wrightson.

Also contains previously unpublished artwork by Al Williamson/Frank Frazetta, Alex Nino, Jack Kirby and Bernie Wrightson.

Compiled by Jeff Merrihue, David Casner and Geoff Steadman.
Offset, perfect bound. Approximately 200 pages. Published circa 1977.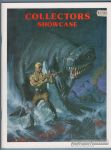 Nicely produced catalog from Collectors Book Store (Hollywood) with half-toned (and some color) reproductions of artwork for sale by Stephen Fabian, Hal Foster, Disney studio artists, Robert Williams, Milton Caniff, Winsor McCay, Bill Ward, Robert Kline, Carl Barks, Basil Wolverton, Jack Kirby, Milt Gross, Marge Henderson, Al Capp, Reed Crandall, Carl Lundgren, Virgil Finlay, Jay Lynch, Jack Gaughan, Bud Sagendorf, George Barr, Bob Zoell, Mac Raboy, Carl Anderson, Kenneth Smith and many others.

This issue also contains one-page biographical pieces on artists Vivie Risto and James McQuade.

Characters represented include: Doc Savage, Betty Boop, Disney ducks, Popeye, Henry
Offset, saddle-stitched.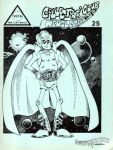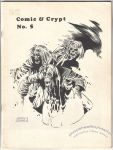 Contents include: interview with Jack Kirby and Carmine Infantino (with photos); "Kirby's Kozmic Kapers" article; several articles on Hammer Films' Dracula; more.
Characters in fan art include: the Thing, Edgar Allan Poe, Adam Strange, Cyclops, Darkseid, Mister Miracle, Orion, Rondo Hatton
Offset, saddle-stitched magazine (trimmed).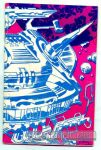 Known then as San Diego's Golden State Comic-Con.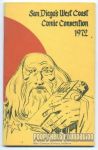 Known then as San Diego's West Coast Comic Convention.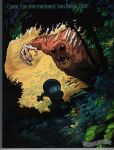 Contents include pieces on Barb Rausch and Golden Age writer Dorothy Woolfolk as well as art sections in tribute to Wonder Woman's 60th anniversary, Fantastic Four's 40th anniversary, Bone's 10th anniversary, Captain America's 60th anniversary, Carl Barks' 100th birthday and The Lord of the Rings.
Appearances in art by Bone, Wonder Woman, Huey, Dewey & Louie, Beany & Cecil, Captain America, Scrooge McDuck, Fantastic Four, Hobbits, GoGirl, Harley Quinn, Sub-Mariner, Dr. Doom, Galactus, Dragon Man, Mole Man, the Watcher, Gandalf, Bilbo Baggins, Gollum, Donald Duck, Usagi Yojimbo, Radioactive Man, Red Skull, Bucky Barnes, Baron Zemo, MODOK, Nick Fury, Giant Man, Thor, Iron Man, Falcon, Shaloman, Miss America, Cutey Bunny and others.