John Ryan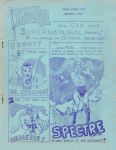 Membership roster not given
Cover by Howard Keltner
Contributions include Agent X Reporting (Bails), Edgemar Milk is Supermilk (bumper sticker inclusion, Patten), Operation Ishfael Part Two (Moslander), The World of Ryandom (Ryan), Richard Kyle's Wonderworld #3 (Kyle), Shmoz #1 (Castora), Secrets Behind All-Star Comics (Bails), The Rambling Roamer #2 (Jackson), Heavy Water #2 (Patten), Miss Suzy Fandom (Miller), Barton Werper - Apprentice Imitator (Hulan), Listen Here! (Gambaccini), Questionnaire for CAPA-alphans (Bails), Looking Back - And Ahead (Foss)
Reproduction by ditto and mimeograph
Back cover by Ronn Foss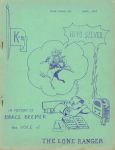 Membership includes Jerry Bails, Paul Gambaccini, Daniel Alderson, John and Tom McGeehan, Glen Johnson, Richard Kyle, Marc Nadel, Pete Jackson, David Kaler, Duncan Robertson, Howard Keltner, Al Kuhfeld, Elliot Brill, Ronn Foss, John Ryan, Dennis Richard, Paul Moslander, Roy Thomas, Fred Patten, Raymond Miller, Phil Castora, Richard Weingroff
Applicants include Derrill Rothermich, Joseph Wehrle, Coreen Casey, Richie Benyo, Gary Behymer, Don & Maggie Thompson
Cover by Jerry Bails
Contributions include Agent X Reporting (Bails), Index to Periodical Literature #2 (Brill), Checklist to First Heroic Age #2 (Keltner), ROY-al Ramblings #1 (Thomas), Listen Here #4 (Gambaccini), Heavy Water #3 (Patten), Shmoz #2 (Castora), Hints: Repro with Spirit Duppers (Bails), Sounding Off (Kaler), Wandering Miner #1 (Rothermich), The World of Ryandom #2 (Ryan), Summation of K-a #1-3 (Alderson), By-Laws of CAPA-alpha (Bails), Membership Roster (Bails)
Reproduction by ditto and mimeograph
Back cover by Jerry Bails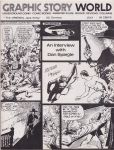 Features an interview with Dan Spiegle.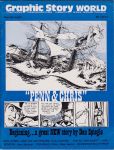 Features an interview with Jim Steranko.  Debut of strip by Dan Spiegle titled "Penn & Chris."
Final issue under this title.  Continues as WONDERWORLD #9.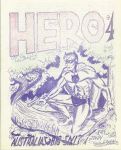 Edition of 200 copies?
[Note: At least one image in this entry was found online (probably at an auction site) and saved for personal use. And then the Database project came along! If you recognize your image we'd like to have your permission and would love to give you credit for your work. Please contact us through Site Info > About in the main menu up top.]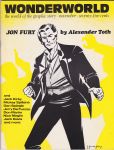 Final issue. 
Letters page includes letters from Ron Haydock, and Michael Cherkas.