Johnny Chambers
[Note: At least one image in this entry was found online (probably at an auction site) and saved for personal use. And then the Database project came along! If you recognize your image we'd like to have your permission and would love to give you credit for your work. Please contact us through Site Info > About in the main menu up top.]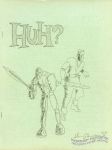 [Note: At least one image in this entry was found online (probably at an auction site) and saved for personal use. And then the Database project came along! If you recognize your image we'd like to have your permission and would love to give you credit for your work. Please contact us through Site Info > About in the main menu up top.]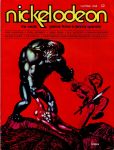 Nickelodeon took the place of Trumpet after Tom Reamy became embroiled in a publishing deal with Nostalgia Inc. that didn't turn out as he had hoped or been led to believe.   Reamy shared editing and publishing duties with Ken Keller, who would go on to publish Trumpet #12 in 1981, in an effort to resurrect the title.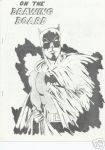 There may be more contributors than listed above.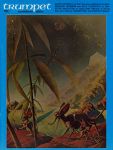 Features include portfolios by Hannes Bok and Stephen Fabian, and Harlan Ellison on 2001 A Space Odyssey.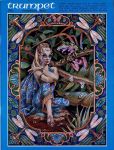 Features include a portfolio by Tim Kirk.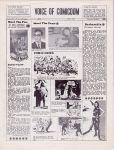 Interview with Al Williamson.  "Meet the Pro" feature about John Romita, Sr.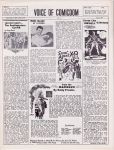 Report about Southwestern Con 1968, article about Mell Graff.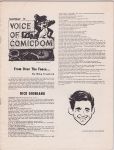 Major format change from unstapled newsletter to saddle-stitched zine with more pages and heavier paper.  Interview with Dick Giordano by Mike Friedrich, article about King Features Syndicate by Rudi Franke, Parts 6, 7 and 8 of Richard Corben's first published strip, "Monsters Rule," graphic critique of Will Eisner, and another strip by Corben called "The Lure of the Tower."