Karl of Pulled Mints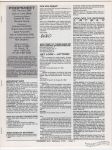 News and reviews of small press comics, zines and such, Andrew Ford's "Big Time Small Pressers", Marcelo Garcia's look at Brazilian small press, letters from Jerzy Drozd, Max. Traffic and Brad W. Foster.
Copies exist with and without the Larry Blake cover (due to publisher error). Copies without are 18 pages.