Mahlon Fawcett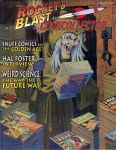 Front and back covers by Johnny Craig.
Editorial features include: 
"BLAST FROM THE READERS," featuring a letter from Al Kracalik about OUTRE and SPA FON #1.   John Fantucchio's cover for RBCC #61 printed in black-&-white.   "Johnny Craig Tribute" by James Van Hise.  "The Ghoulanatic Paintings" by "Crumblin' Charlie."  "George Evans Tribute" by JVH.   "Why Do We Collect Comics?" by JVH.   "Prince Valiant in the Days of Hal Foster" by JVH.  "An Interview with Hal Foster" reprinted from COLLAGE #10.   "Comic Artists in the Pulps" featuring Alex Raymond, Al Williamson, and Roy Krenkel.  "League of Masks," fiction by JVH.  "Torture, Death and Disrobing — 'Snuff' Comics in the Golden Age: 1945-1955" by Michael Vollmer.  "THE EC STORY: Weird Science — The Way the Future Was" by JVH.  "Don Rosa's INFORMATION CENTER," originally intended for RBCC #152.
"MAD Index 1-23" by Bill Hansen and Dan Ciminelli reprinted from RBCC #153.  "One of the Greatest Films You've Never Seen: The Boy from Mercury" by JVH.  
Ads for:
ALL-STORY pulp magazine facsimile
DINOSAURS ATTACK! bubblegum cards
MIDNIGHT GRAFFITI
PULP MASTERS
RBCC house ad
THE FANTASTIC WORLDS OF HP LOVECRAFT  
THE FANTASTIC WORLDS OF ROBERT E. HOWARD
TOMB TALES
and YE OLDE FANZINE SHOPPE