Mark Murphy
Inside this issue: Bruce Sweeney's "Underground Station", photo and unveiling of "T.M. Maple", Chicago con report, news, tons of minicomics reviews (including lots of cover scans and art samples), columns, comic strips and more.
I suspect "Arnold Simpson" is a pseudonym.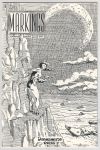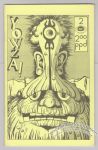 Contents include a five-page cartoon tribute to the Three Stooges.

Other characters appearing include Cloak & Dagger, Ratman, Ronald Reagan, Galen the Saintly, the Ruz, Howie the Hat, Captain America, Longshot and Renegade Rabbit.

United Fanzine Organization memberzine.

There's also a Greg Young listed on the contributors page but I honestly can't figure out what he did (if anything) in this issue.