Mark Wallace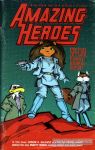 Edd Vick interviews Steve Gallacci, "Why a Duck?" (36 cartoonists on why they deal in funny animals), Rowrbrazzle portfolio section, letter from James Pugh looking for fan artists.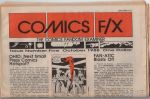 Inside this issue: Bruce Sweeney's "Underground Station", 1988 San Diego con report, news, tons of minicomics reviews (including lots of cover scans and art samples), columns, comic strips and more.

Photos of Mary Fleener, Wayno, Peter Bagge, Peter Kuper, Dennis Worden, Bill Fitts, Kjartan Arnorsson and others.
This issue also included a one-page addendum insert.