Mickey Schwaberow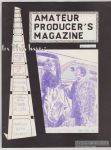 Fan magazine devoted to amateur filmmaking. Contains work by Mickey Schwaberow, Steve Kelez, Don Glut, Marty Arbunich and others.
Characters appearing in fan art: the Spirit, Captain America, Superman, Frankenstein's monster, Captain Marvel (Shazam), King Kong, Spy Smasher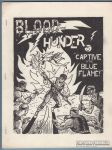 Art, comics, fiction and non-fiction. Contains two articles on UFOs/flying saucers, plus letters from Dave Szurek, Larry Herndon, Margaret Gemignani and others.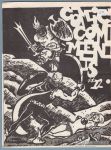 Contents include: more on C.C. Beck and Milson; letters (Marv Wolfman, Gary Friedrich, Irene Vartanoff, Larry Herndon, Bill Spicer, others); a recommendation for Wonder Wart-Hog; full-page fanzine ads for THE, Bombshell, Action Illustrated; more.
This issue also contains On the Drawing Board #56 (Vol. 2, #9) by Robert Schoenfeld.
Characters in art include: Golden Age Green Lantern
Offset/ditto, essentially 20 pages, side-stapled.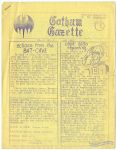 [Note: At least one image in this entry was found online (probably at an auction site) and saved for personal use. And then the Database project came along! If you recognize your image we'd like to have your permission and would love to give you credit for your work. Please contact us through Site Info > About in the main menu up top.]