Mort Drucker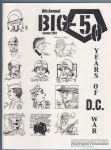 Fanzine celebrating 50 years of war comics as published by DC. The wraparound cover is loaded with cartoonist portraits and self-portraits. Many of those artists also get one- and two-page articles inside about their military experience and comics work (plus new artwork).
There's also a full-color centerspread painting of the USS Stevens by Sam Glanzman.
There may be other contributors not listed above.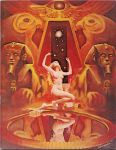 Infinity #3 was published as a two volume issue, each volume running 32 pages.
Features interviews with Jeff Jones, Frank Brunner, Bruce Jones.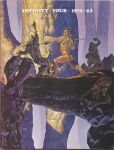 Features interviews with Mike Kaluta, Steve Harper.