RC Harvey
#190 in Jay Kennedy's Official Underground and Newave Comix Price Guide.
Dimensions may vary due to trimming. Side-stapled.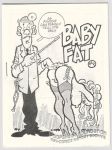 Dimensions may vary depending on trimming. Side-stapled (some may be saddle-stitched).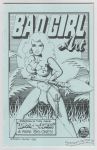 Bad Girl Art was an anthology of comix focused on the female form – sort of a newave version of "good girl art".
Parodies include Li'l Abner, Archie, Disney Ducks, She-Hulk and Red Sonja.

#201 in Jay Kennedy's Underground and Newave Comix Price Guide.
Cardstock covers.
1st printing: 100 copies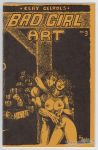 Bad Girl Art was an anthology of comix focused on the female form — sort of a newave version of "good girl art".
Cardstock covers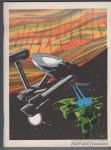 Contents include: interview with Walter Koenig (Ensign Chekov); "Star Trek Revisited" article; production drawings for the Star Trek animated series; three articles on the Captain Marvel family, villains and 1940s serials; one-page profile of Kurt Schaffenberger; a Collector cover gallery; two pages of Zero Hero by Harvey; four-page Steve Ditko comic; "A Short History of Pulp Fandom" article; "The Heroes of Nostalgic Literature: Pulps vs Comics" article; article on the resurrection of Will Eisner's Spirit; article on the Perry Rhodan series; 10-page Greenhorn comic by Hanley; letters (Bill Gaines, others); more.
Characters include: William Shatner/Captain Kirk, Leonard Nimoy/Mister Spock, Nichelle Nichols/Lt. Uhura, USS Enterprise, the Demon, Superman, Captain Marvel, Sivana, Captain Marvel Jr., Mary Marvel, Superman, Mr. Mind, the Shadow, Doc Savage, the Spirit, Lightray, Darkseid, Mister Miracle, Big Barda, Alley Oop
Offset, some interior color, saddle-stitchd.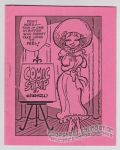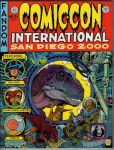 Contents include art sections in tribute to EC Comics/MAD Magazine, Charles Schulz's "Peanuts", Dinosaurs & Giant Robots, Will Eisner's Spirit and Flash & Green Lantern.
Appearances in art by William Gaines, Johnny Sokko and His Flying Robot, Frankenstein Jr., Mechagodzilla, Kona, Fred Flintstone, Ellen Dolan, Cutey Bunny, El Gato Negro, Impulse, Spark Plug, Charlie Brown, Lucy Van Pelt, Snoopy, GoGirl, Judge Judy, Quicksilver and others.
Roughly 8¼ x 10¾" (8½ x 11" trimmed)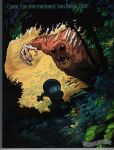 Contents include pieces on Barb Rausch and Golden Age writer Dorothy Woolfolk as well as art sections in tribute to Wonder Woman's 60th anniversary, Fantastic Four's 40th anniversary, Bone's 10th anniversary, Captain America's 60th anniversary, Carl Barks' 100th birthday and The Lord of the Rings.
Appearances in art by Bone, Wonder Woman, Huey, Dewey & Louie, Beany & Cecil, Captain America, Scrooge McDuck, Fantastic Four, Hobbits, GoGirl, Harley Quinn, Sub-Mariner, Dr. Doom, Galactus, Dragon Man, Mole Man, the Watcher, Gandalf, Bilbo Baggins, Gollum, Donald Duck, Usagi Yojimbo, Radioactive Man, Red Skull, Bucky Barnes, Baron Zemo, MODOK, Nick Fury, Giant Man, Thor, Iron Man, Falcon, Shaloman, Miss America, Cutey Bunny and others.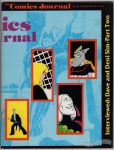 Second part of an interview with Dave and Deni Sim (Loubert).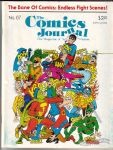 Interviews with George Metzger and Phil Yeh; Rory Hayes obituary.
Other artists: Bradkirk (first name unknown), R. Kasman (Ron Kasman?).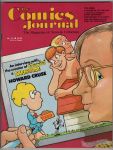 Interviews with Howard Cruse and Dan Day.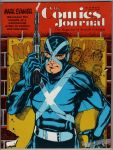 Ken Jones interviews Mark Evanier.
There are a couple of artists I can't identify: Craig and McCarthy.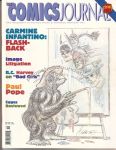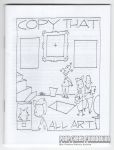 This is one of the occasional all-art issues.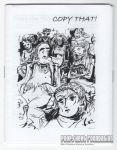 The usual info on recent comics, plus a few pages of art and gag cartoons.
This issue also came with a bonus mini-comic, Squint #6, by Tom Brinkmann (see its entry elsewhere).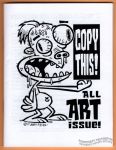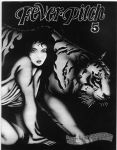 Contents include a three-page Sherlock Holmes parody, a Snow White parody, Par Holman's "Forgotten Comics of the '40s", Ultra Vixen Kitten Natividad, and a one-page spoof on Marvel/DC superheroines featuring Wasp, Raven, Valkyrie, Scarlet Witch, Wonder Girl, Fly Girl, She-Hulk, Spider-Woman, Wonder Woman, Power Girl, Hellcat, Black Canary, Nova, Invisible Woman, Huntress, Starfire, Zatanna, Batgirl, Moondragon, Storm, Black Widow, Kitty Pryde, Saturn Girl, Thundra and Vampirella.
[Note: At least one image in this entry was found online (probably at an auction site) and saved for personal use. And then the Database project came along! If you recognize your image we'd like to have your permission and would love to give you credit for your work. Please contact us through Site Info > About in the main menu up top.]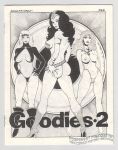 Contents include a "Girls of Comicopia" article by R.C. Harvey.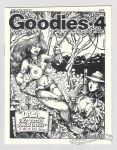 "The Little Book of Naughty Bits"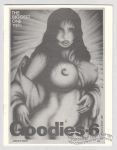 Contains an installment of R.C. Harvey's "Girls of Comicopia" (focusing on the gals of Al Capp's "Li'l Abner").