Ray Miller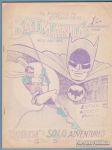 Batman-themed fanzine. Contents include: article on Robin's solo stories in Star Spangled Comics; address list of Batmanians; full-page ad for Biljo's The Eye #1; Batman-related sightings in the media; more.
Characters in fan art include: Batman, Robin, Crazy Quilt, Dante Leonardo
Ditto/mimeo, side-stapled.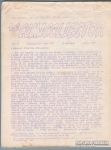 Contents include: a seven-page American Man ama-hero strip; sale/want lists (Howard Rogofsky, Mike Vosburg, Jerry Bails, others); a look at some obscure Golden Age characters; warnings about unscrupulous fans; letters; more.
Characters in art include: Shock Gibson, Captain Freedom, Black Cat, Pat Parker
Ditto, corner-stapled.
There was a third person in TRIAD (another Foss but I'm not sure about the first name).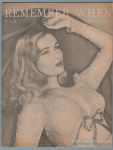 Nostalgia fanzine. Contents include Harvey Kurtzman interviewed by Alan Hewetson and an article on the Uncle Sam comic book character.
Offset on newsprint.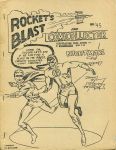 Editorial features include:
Nightmare & Sleepy cover by Rich Buckler.  "ROCKETEER GOSSIP" by Rick Weingroff.  "SEULING'S CORNER" by Phil Seuling. 
"SNIPER'S NEST" by Tom Fagan.  "FOUR" by Ray Miller, dealing with four consecutive issues of a Golden Age title.  "THIS 'N' THAT" by Louis Black.  Reprint of a newspaper article on comic collector Gene Arnold.
"BLASTS FROM THE READERS" with letters from Roy Thomas and Mike Raub. 
Ads for:
ALTER EGO #5, 6, 7, and 8
AMRA
BOMBSHELL #3
COMICLUB NEWS #3, 4
FANMAG ILLUSTRATED #1 
FANTASTY ILLUSTRATED #5
FIGHTING HERO COMICS 
GOLDEN AGE #1 and 2
ILLUSTRATED COMIC COLLECTORS HANDBOOK #1, 2
INSIDE INFO (pamphlet)
MASQUERADER #6
ROCKET'S BLAST SPECIAL #5 and 6
RBCC ANNUAL #1
STAR-STUDDED COMICS #6
THE CARTOONIST
THE INCAS TIMES 
THE WORLD OF FOSS (Ronn Foss; published?) 
THE EYE #1
TRUMPET #4
WOW #2