Rich Bruning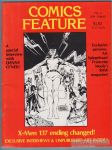 Contents include: "The Many Alternate Fates of the Phoenix: The Complete Story Behind the Death of Jean Grey" (contains previously unpublished artwork); interview with Denny O'Neil; "The Silver Age of Comics" article; interview with art spiegelman and Francoise Mouly (with much sample art from the then-new Raw #1); article on Al Capp and "Li'l Abner"; fanzine reviews; more.
Characters appearing in fan art: Batman, Green Lantern, Green Arrow, Black Canary, Thor, Wonder Woman, Superman, Martian Manhunter, Fantastic Four, Spider-Man, Mickey Mouse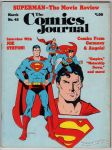 Interview with Joe Staton, indepth review of Superman: The Movie.
Roughly 8¼ × 10¾"
Other artists: Klinger (first name unknown), T. Herzog and Daly (first name unknown; Sam de la Rosa?).
Some writers/artists listed above were in the issue's list of contributors but may not be credited by the piece. It's a bit perplexing as some of the artists I can't match to art.
United Fanzine Organization memberzine.