Richard Kravitz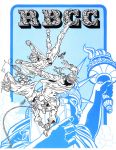 Editorial features include:
Cover by Robert Susor.  Back cover by Mike Zeck.
"An Interview with Neal Adams" by Richard Kravitz and James Van Hise.  "Black Condor" article by Ray Miller. 
"Spaced: 1998 1/4" written and drawn by Ron Wilber.  
"The Glob" by John O'Reilly and Walt Kelly, reprinted from LIFE Magazine 1952. 
"THE EC ARTIST COLLECTOR" by Larry Bigman. 
"RBCC INFORMATION CENTER" by Don Rosa. 
"CRITIQUE" fanzine and comix reviews by JB Clifford Jr, Mark Burbey, and JVH. 
"COMIC COLLECTORS COMMENTS" by Howard P. Siegel. 
"Great Expectations: Kenneth Smith's Phantasmagoria" by George Beahm.  
"BLASTS FROM THE READERS" with a letter from David Michelinie.
Ads for:
COMIC BOOK PRICE GUIDE #6 (1976)
ABYSS PORTFOLIO (1971, offered here by the guys who published HERITAGE.)
Clay Geerdes' COMIX WORLD 
DUCKANEER poster by Frank Brunner
EAST COAST COMIX EC reprints
ENTERPRISE INCIDENTS #1, 2
FEATURE SHOWCASE #1
FILM COLLECTOR'S WORLD
SIXGUN HEROES: A Price Guide to Movie Cowboy Collectibles
STARLOG #1
THE FILM COLLECTOR'S REGISTRY
THE VAUGHN BODE INDEX
TREK #5
WE #106 (Official publication of WSA Program)