Terry Jeeves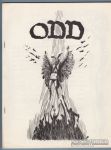 Contents include full-page comic reaction to the Vietnam War by Dave Buck that borrows Marvel Comics characters Dr. Doom and Iron Man.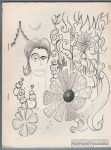 Contents include: "Prehistoric Supermen" article; Elric of Melnibone art by Gaughan; dadaesque comics by Dave Buck utilizing Marvel Comics-style imagery; and more.

Plus letters from Harvey Kurtzman, Ted White, Mae Strelkov, Ray Nelson, Jack Gaughan, and others.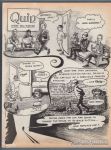 Science fiction fanzine. Contents include: a beautiful six-page comic by Ross Chamberlain that begins on the cover and stars Jack Gaughan and others; "Non-Con Report" article by Robert Bloch (two pages); and art by Joe Staton, Steve Stiles, ATom (Arthur Thomson), Bjo Trimble, William Rotsler and others.
Mimeo printed.