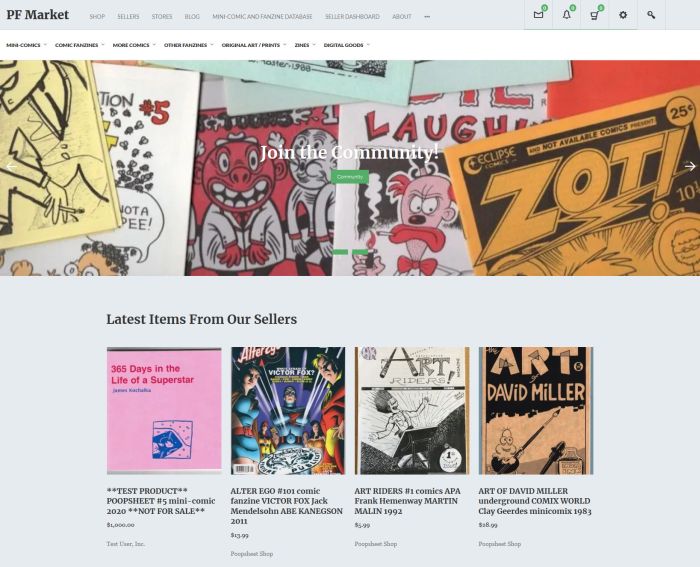 You may have heard that I'm preparing to launch an international marketplace site specifically for self-publishers and zine collectors. It's something I've been thinking about for years and I'm excited to finally bring it to life.

SITE FEATURES:
• Sellers can list mini-comics, fanzines, other self-published comics, original art, prints, non-comic zines, digital comics, etc.
• Each seller has their own customizable storefront.
• Sellers add their own pricing, descriptions, photos, etc.
• Seller-specific coupon codes (and management)
• The lists of sellers and stores can be sorted alphabetically or by most recent.
• Products can be favorited and the favorites list shows up in the user's profile.
• Purchase history and order tracking for customers
• Every part of the marketplace can be searched with various filter options.
• Facebook-like social networking features
• Language translation option on every marketplace page
• Mobile-friendly

I also maintain the Mini-Comic and Fanzine Database, which will be folded in at some point so that the marketplace, social networking aspects and Database will all be accessible from the same login.

MARKETPLACE SNEAK PEEK!
Here are a few screenshots of the work so far. I've got a lot more tweaking to do in settings and styling, have to finish setting up social networking, upgrade some of the software, and so forth. But this should give you a rough idea of the finished product. Note: The marketplace name and some other aspects will be changing before the launch.
• home
• shop
• product page
• stores list
• seller dashboard
PRICING
• Up to five products: $0.00 per month + 5% commission for each sale
• Six or more products: $5.00 per month + 5% commission for each sale
Fees will be slightly higher for dealers selling items as collectibles, as well as for digital products hosted at the site (although this probably won't be needed by most sellers of digital items).

I COULD USE YOUR HELP
I know these are uncertain times but please consider making a small donation to the cause. Once the current goal is met ($2000) I'll be able to focus on the remaining work. Then it shouldn't be any problem to get the site up and running within a week or two and ready to buy and sell on. I'm super excited. $2000 is just 200 people donating $10 apiece. A piece of cake! Let's make this happen!

One-time donations:
-- PayPal
-- Ko-fi
Recurring donations (monthly):
-- Patreon

Incentive #1: DONATIONS = FEE CREDITS!
That's right! Any pre-launch donations will later be turned into fee credits should you decide to sell your wares at the marketplace. For example, if you donate $20 and join the site as a seller, you won't have to pay any fees until that $20 runs out. This allows me to get the site finished and launched and allows sellers to sell fee-free for a while. [This offer is also good for those who've already donated, of course!]

Incentive #2: MINI-COMICS!
As an added incentive, every $5.00 donated will get you one of the mini-comics I've published or distributed over the past few years. I've got 15 or so available at the moment. While supplies last!

Please consider helping to get this project off the ground.

Thank you!

Rick Bradford
Poopsheet Foundation

poopsheetfoundation.com
This email address is being protected from spambots. You need JavaScript enabled to view it.