Andrej Stular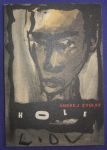 There may be more contributors than listed above.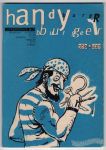 All text is in English.
5¾ x 8¼"
60 pages
2-color cover on heavier stock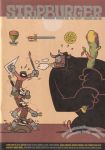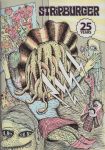 Interviews with Caroline Sury and Katerina Mirovic.
96 pages (11 in full-color) plus poster insert.
Some text in English and also includes English translations.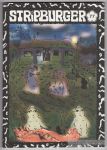 Interview with Till Lukat, a feature on Charles Burns, and a spotlight on the Taiwanese independent comics scene.
The bound-in 24-page Compendium insert contains other contributions from Domen Finžgar (Browsing in the Bora Wind), Gašper Rus (Gašper Krajnc: City Birds), Bojan Albahari (Peter Kuper: Heart of Darkness), Ana Bogataj (Cecilia Valagussa & Ariel Macchi: ColoreInferno), and Aljaž Vesel & Anja Delbello (Stripnoodel).
All comics in this issue are in English or wordless. All texts are presented in both Slovenian and English.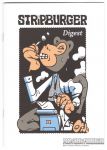 An introduction to Stripburger produced for an exhibition at the 2020 Poznan Comics Festival in Poland.
All text is in English throughout.
Saddle-stitched, printed on heavy stock, b&w interiors.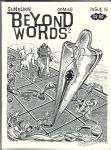 The theme for this issue is "Beyond Words" (all pantomime / wordless comics).
This issue also came with two separate inserts. One is the 20-page Beyond Words 2.5 (with work by Billy Mavreas, Glenn Smith, Eric Braun, Lauro Roberto, Wuk, Matthew Daley and others. The second insert is Zinehead, an eight-page resource for then-existing reviewzines and comics anthologies from around the world.
Some copies have hand-colored covers, probably by editor Karl Thomsen.
40 pages plus inserts
There may be more contributors than listed above.