Derrill Rothermich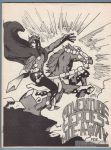 Published for members of the Adventure Heroes' Club.

Contents include: article on superhero movies; "Is Marvel Number One" article; brief fanzine reviews; a Captain Gemini ama-hero strip; "Flash Gordon Flies Again!" article; letters; more.
Characters appearing in fan art include: Vision (Golden Age), Superduperman, Scarlet Witch, Ant-Man, Wasp, Spider-Man, Peacemaker, Daredevil, Captain 3-D, Kona
Offset cover, ditto interiors.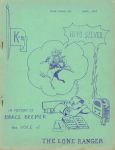 Membership includes Jerry Bails, Paul Gambaccini, Daniel Alderson, John and Tom McGeehan, Glen Johnson, Richard Kyle, Marc Nadel, Pete Jackson, David Kaler, Duncan Robertson, Howard Keltner, Al Kuhfeld, Elliot Brill, Ronn Foss, John Ryan, Dennis Richard, Paul Moslander, Roy Thomas, Fred Patten, Raymond Miller, Phil Castora, Richard Weingroff
Applicants include Derrill Rothermich, Joseph Wehrle, Coreen Casey, Richie Benyo, Gary Behymer, Don & Maggie Thompson
Cover by Jerry Bails
Contributions include Agent X Reporting (Bails), Index to Periodical Literature #2 (Brill), Checklist to First Heroic Age #2 (Keltner), ROY-al Ramblings #1 (Thomas), Listen Here #4 (Gambaccini), Heavy Water #3 (Patten), Shmoz #2 (Castora), Hints: Repro with Spirit Duppers (Bails), Sounding Off (Kaler), Wandering Miner #1 (Rothermich), The World of Ryandom #2 (Ryan), Summation of K-a #1-3 (Alderson), By-Laws of CAPA-alpha (Bails), Membership Roster (Bails)
Reproduction by ditto and mimeograph
Back cover by Jerry Bails