Frank Lloyd Jr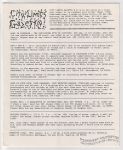 Steve Willis' biweekly newsletter full of comix news and commentary.
Also in this issue: Toivo Rovainen writes about the last days of Comics F/X, Bruce Chrislip on an underground cartoonists art exhibit in Seattle, the Bil Keane Watch, Gary Usher's index of small press comics mentions in The Comics Journal, more.
Unbound, b&w interiors.
This issue also came with Willis' State of Beings #12.