Gino Membrino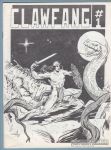 Contents include: "Super Heroes: Levity, Learning and Lightning Bolts" article; profile of illustrator Mario DeMarco; article on the Fleischer Superman cartoons; "The Forgotten Heroes: The Avenger" article; fiction; fanzine reviews; more.
Characters appearing include: Captain Marvel, Superman, the Avenger, Hawk & Dove, Howard the Duck, Batman, Vision, Deathlok, Dracula
Offset?, saddle-stitched.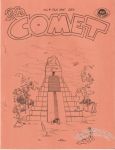 United Fanzine Organization memberzine.