Ken Sanders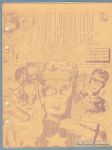 Published for members of the Adventure Heroes Club.
Contents include: a checklist of Justice Society of America appearances; All Star Comics review; a bit of fan fiction from the street's of Marvel's NYC; more fiction; spotlight on Enemy Ace; more.
Characters appearing in fan art include: Shield (Archie), Nukla, Fighting American, the Watcher, Captain America, Spider-Man
Ditto printed.