Marc Nadel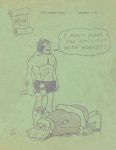 Membership includes Jerry Bails (Central Mailer), Paul Gambaccini, Bob Jennings, Daniel Alderson, John & Tom McGeehan, Richard Kyle, David Castronuovo, Marc Nadel, Pete Jackson, David Kaler, Pete Phillips, Duncan Robertson, John Ryan, Elliot Brill, Ronn Foss, Dennis Richard, Joe Hehn, Bill Spicer, Howard Keltner and Al Kuhfeld.
Cover by Biljo White and Jerry Bails
Contributions include Agent X Reporting (Bails), Views and Verdict (Nadel), The Rambling Roamer #1 (Jackson), Listen Here! (Gambaccini), Small Talk (Johnson), Data Sheet (Bails), Checklist of Features in Comic Books of the First Heroic Age (Keltner), An Index of Periodical Literature Pertaining to Comics (Brill) and an ad for The Official Guidebook to Comics Fandom (Spicer)
Back cover is blank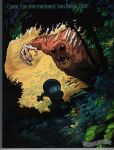 Contents include pieces on Barb Rausch and Golden Age writer Dorothy Woolfolk as well as art sections in tribute to Wonder Woman's 60th anniversary, Fantastic Four's 40th anniversary, Bone's 10th anniversary, Captain America's 60th anniversary, Carl Barks' 100th birthday and The Lord of the Rings.
Appearances in art by Bone, Wonder Woman, Huey, Dewey & Louie, Beany & Cecil, Captain America, Scrooge McDuck, Fantastic Four, Hobbits, GoGirl, Harley Quinn, Sub-Mariner, Dr. Doom, Galactus, Dragon Man, Mole Man, the Watcher, Gandalf, Bilbo Baggins, Gollum, Donald Duck, Usagi Yojimbo, Radioactive Man, Red Skull, Bucky Barnes, Baron Zemo, MODOK, Nick Fury, Giant Man, Thor, Iron Man, Falcon, Shaloman, Miss America, Cutey Bunny and others.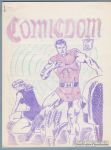 Contents include: "The Comics Market Today" article; three pages of parody covers (Fantastic Four, Atom, Superman family); John McGeehan's list of known comics fanzines; article on the Phantom; more.
Characters in fan art include: Phantom, Magnus, Robot Fighter
Ditto, 20 pages (17 sheets, most are one-sided), corner-stapled.