Woodstock Elementary School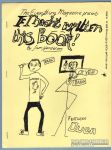 Probably Sam Henderson's first published work. Signed and numbered edition of 30.
The copy I've seen (pictured) may possibly be a later printing as it appears to be signed by Bobby Weiss. Perhaps it was a one-off made specifically for Weiss as there's no copy number and the Henderson signature is printed.