Jerry Bails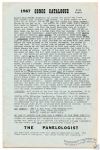 [Note: At least one image in this entry was found online (probably at an auction site) and saved for personal use. And then the Database project came along! If you recognize your image we'd like to have your permission and would love to give you credit for your work. Please contact us through Site Info > About in the main menu up top.]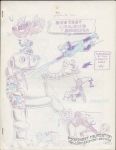 Edited by Jerry Bails and Roy Thomas.
Several printings (1961, 1963 and 1964 at least).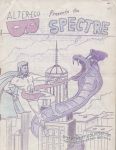 Edited by Jerry Bails and Roy Thomas.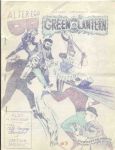 Edited by Jerry Bails and Roy Thomas.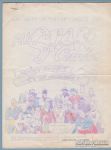 1st printing: Dec. 1961 or Jan. 1962, copyright blurb on cover
2nd printing: ?
Ditto printed, corner-stapled.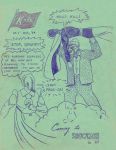 Membership includes Jerry Bails (Central Mailer), Paul Gambaccini, Bob Jennings, Bill Placzek, Daniel Alderson, John Koch, John & Tom McGeehan, Tom Dietz, Richard Kyle, David Castronuovo, Marc Nadel, Pete Jackson, Dick Memorich, David Kaler, Pete Phillips, Glen Goggin, Duncan Robertson, Margaret Gemignani, Howard Keltner and Al Kuhfeld.
Cover by Jerry Bails.
Contributions are Agent X Reporting (Bails), House of Info (McGeehans), Listen Here! (Gambaccini), Comments and Suggestions Re Academy Elections (Kuhfeld), Mandrake the Magician in the Land of X (House of Info - McGeehans), Data Sheet - DC Scripts by Otto Binder (Bails), Checklists of Features in Comic Books of the First Heroic Age - Approx. 1938-51 (Keltner), I Was a Teenage Gambaccini! or Blecch! (Gambaccini) and Wonderworld #1 (Kyle).
Reproduction by ditto and mimeograph.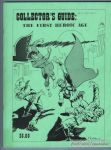 Jerry Bails' comprehensive listing of "all costumed- and super-hero strips appearing from 1934 through 1947, including reprints of newspaper strips and adaptations of heroes from pulps and radio."

Cover art by Rich Buckler. Also contains a full-page ad for Gosh Wow! #3 and other fanzine ads illustrated by Martin L. Greim, John Fantucchio, Joe Rabon, Rick Dey and others.
Offset, saddle-stitched.
Two printings?
An excellent primer from early fandom acquainting newcomers with terminology, comic book and comic strip history, comic grading, original art collecting, the origins of fandom, and ads for quality fanzines and dealers.  Published by the editor and publisher of Fantasy Illustrated/Graphic Story Magazine, Bill Spicer.
[Note: At least one image (front/back shot and interior sample) in this entry was found online (probably at an auction site) and saved for personal use. And then the Database project came along! If you recognize your image we'd like to have your permission and would love to give you credit for your work. Please contact us through Site Info > About in the main menu up top.]