1961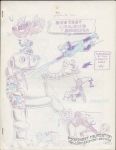 Edited by Jerry Bails and Roy Thomas.
Several printings (1961, 1963 and 1964 at least).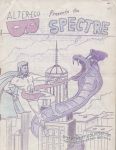 Edited by Jerry Bails and Roy Thomas.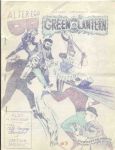 Edited by Jerry Bails and Roy Thomas.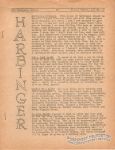 Maggie Thompson (Curtis), art editor.
[Note: At least one image in this entry was found online (probably at an auction site) and saved for personal use. And then the Database project came along! If you recognize your image we'd like to have your permission and would love to give you credit for your work. Please contact us through Site Info > About in the main menu up top.]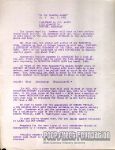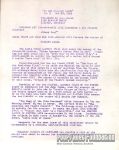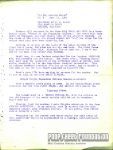 2 single-sided pages on carbon paper.  Page count varies: copies that were 8.5 x 14 inches were likely 2 pages, and 8.5 x 11 copies were likely 3 pages.
At least three different versions exist, with same content but different lay-outs. 
Editorial features include:
"TO THE MEMBERS" message from GB Love.   "Dividing Line" very short story (one paragraph) by Bernie Bubnis.   "THE COLLECTOR'S CORNER" column by GB Love (recommending Flash #123 and Green Lantern #8).   "WE SUGGEST" comic suggestion column (GB suggests Amazing Adult Fantasy #9).   "THE SCIENCE SHOP" column discusses The Abominable Snowman (Part I).  "Special Announcement" by Love announces there will be classified ads in next issue. 
Circulation: only 7 produced (6 on carbon paper, one is manually typed), 2 pgs, single-sided printing via carbon-paper, top stapled. on legal-sized paper.
(According to Anthony F Smith who handled the estate of GB Love: "The situation on Rocket's Blast #1 & #2 … the copies out of GB Love's collection … suggest how many copies were done.  There were 6 carbon copies of the first issue PLUS GB's typed cover copy, for a total of SEVEN.   Inside he listed by names all the subscribers: Rick Weingroff, Rusty Clapsaddle, Buddy Saunders, Charles Donthitt, Jerry Snipes, Bernie Bubnis, Jr.")