1961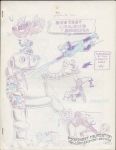 Edited by Jerry Bails and Roy Thomas.
Several printings (1961, 1963 and 1964 at least).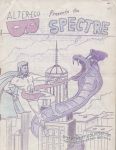 Edited by Jerry Bails and Roy Thomas.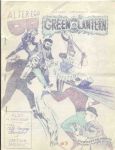 Edited by Jerry Bails and Roy Thomas.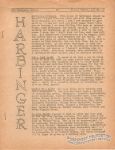 Maggie Thompson (Curtis), art editor.
[Note: At least one image in this entry was found online (probably at an auction site) and saved for personal use. And then the Database project came along! If you recognize your image we'd like to have your permission and would love to give you credit for your work. Please contact us through Site Info > About in the main menu up top.]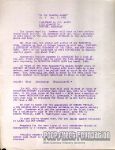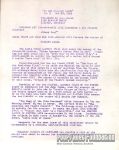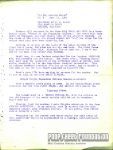 2 single-sided pages on carbon paper.  Page count varies: copies that were 8.5 x 14 inches were likely 2 pages, and 8.5 x 11 copies were likely 3 pages.
At least three different versions exist, with same content but different lay-outs. 
Editorial features include:
"TO THE MEMBERS" message from GB Love.   "Dividing Line" very short story (one paragraph) by Bernie Bubnis.   "THE COLLECTOR'S CORNER" column by GB Love (recommending Flash #123 and Green Lantern #8).   "WE SUGGEST" comic suggestion column (GB suggests Amazing Adult Fantasy #9).   "THE SCIENCE SHOP" column discusses The Abominable Snowman (Part I).  "Special Announcement" by Love announces there will be classified ads in next issue. 
Circulation: only 7 produced (6 on carbon paper, one is manually typed), 2 pgs, single-sided printing via carbon-paper, top stapled. on legal-sized paper.
(According to Anthony F Smith who handled the estate of GB Love: "The situation on Rocket's Blast #1 & #2 … the copies out of GB Love's collection … suggest how many copies were done.  There were 6 carbon copies of the first issue PLUS GB's typed cover copy, for a total of SEVEN.   Inside he listed by names all the subscribers: Rick Weingroff, Rusty Clapsaddle, Buddy Saunders, Charles Donthitt, Jerry Snipes, Bernie Bubnis, Jr.")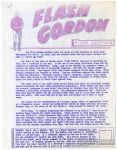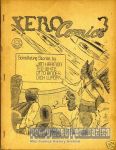 Xero was a key building block in the creation of comics fandom. Produced by Dick and Pat Lupoff with Bhob Stewart (uncredited), it was a widely circulated science fiction fanzine that began to examine comic books thru the pivotal series "All In Color For A Dime."  Those articles help focus the attention of would be comic fans in comic books, and the entire series was later reprinted in book form. Xero went on to win a Hugo, and some of the articles were reprinted many years later in a hardback book. In Flyer #5, the supplement to Xero, Dick Lupoff mentioned that the circulation of the zine was 160 copies. No copies were for sale, and no subscriptions were ever accepted. It was only available by direct mailing with recipients getting one free first time copy, and you only got subsequent issues by trading your zine for it, or writing letters of comment (long letters, not just post cards and thank you notes), or writing articles for the publication. [Aaron Caplan]
There may be more contributors than listed above.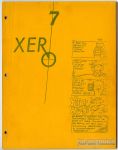 Xero was a key building block in the creation of comics fandom. Produced by Dick and Pat Lupoff with Bhob Stewart (uncredited), it was a widely circulated science fiction fanzine that began to examine comic books thru the pivotal series "All In Color For A Dime."  Those articles help focus the attention of would be comic fans in comic books, and the entire series was later reprinted in book form. Xero went on to win a Hugo, and some of the articles were reprinted many years later in a hardback book. In Flyer #5, the supplement to Xero, Dick Lupoff mentioned that the circulation of the zine was 160 copies. No copies were for sale, and no subscriptions were ever accepted. It was only available by direct mailing with recipients getting one free first time copy, and you only got subsequent issues by trading your zine for it, or writing letters of comment (long letters, not just post cards and thank you notes), or writing articles for the publication. [Aaron Caplan]