1973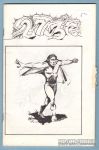 Contents include "The Rise of British Fandom" article, comics news, fanzine recommendations, fandom news, columns, letters, more.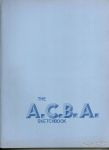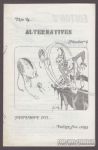 Some (if not all) copies were unstapled.

There's one artist I'm unsure of: Tetreault (one of the back cover illos) (Jeff Tetrault?)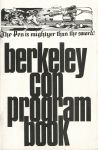 Convention organized by Nick Marcus, Mike Manyak, Jon Campbell, Clay Geerdes, John Barrett, Bud Plant, and Robert Beerbohm.   Program printed by Rip Off Press.   Comix World article by Clay Geerdes, front cover by Rick Griffin, back cover by Larry Todd.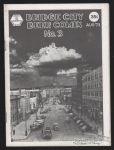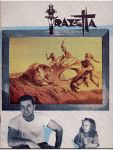 This issue served as the 2nd issue of Frazetta, with lots of art, and articles by Bob Barrett and Frank Frank Frazetta himself.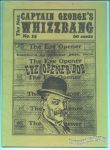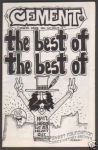 [Note: At least one image in this entry was found online (probably at an auction site) and saved for personal use. And then the Database project came along! If you recognize your image we'd like to have your permission and would love to give you credit for your work. Please contact us through Site Info > About in the main menu up top.]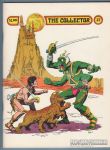 Contents include: article on Edgar Rice Burroughs adaptations from DC Comics (Tarzan, Korak, John Carter); "The Legacy of Edgar Rice Burroughs" article; a look at ERB character Ghek; an eight-page NoMan story by Pinkoski (T.H.U.N.D.E.R. Agents); portfolio of western art by Don Newton; a Greenhorn comic by Hanley (Marvel/DC parody); interview with Gray Morrow; eight-page "J Series" comic by Ditko; letters (Russell Myers, others); more.
Characters include: John Carter, Dejah Thoris, NoMan, Ghek, Darkseid, Glorious Godfrey, Desaad, Kalibak, Batman, Captain Marvel, Broom-Hilda, The Old Witch (EC Comics)
Offset, some interior color, saddle-stitched.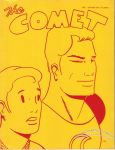 [Note: At least one image in this entry was found online (probably at an auction site) and saved for personal use. And then the Database project came along! If you recognize your image we'd like to have your permission and would love to give you credit for your work. Please contact us through Site Info > About in the main menu up top.]