John Ellis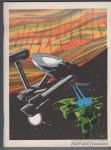 Contents include: interview with Walter Koenig (Ensign Chekov); "Star Trek Revisited" article; production drawings for the Star Trek animated series; three articles on the Captain Marvel family, villains and 1940s serials; one-page profile of Kurt Schaffenberger; a Collector cover gallery; two pages of Zero Hero by Harvey; four-page Steve Ditko comic; "A Short History of Pulp Fandom" article; "The Heroes of Nostalgic Literature: Pulps vs Comics" article; article on the resurrection of Will Eisner's Spirit; article on the Perry Rhodan series; 10-page Greenhorn comic by Hanley; letters (Bill Gaines, others); more.
Characters include: William Shatner/Captain Kirk, Leonard Nimoy/Mister Spock, Nichelle Nichols/Lt. Uhura, USS Enterprise, the Demon, Superman, Captain Marvel, Sivana, Captain Marvel Jr., Mary Marvel, Superman, Mr. Mind, the Shadow, Doc Savage, the Spirit, Lightray, Darkseid, Mister Miracle, Big Barda, Alley Oop
Offset, some interior color, saddle-stitchd.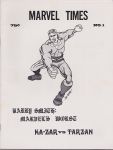 Editorial features include: 
Chapter 9 of "The Savage Earth" strip by Don Newton.  An account of MiamiCon Dec 1969 by John Ellis.  "RBCC Information Center" by Raymond Miller.  "Comic Collectors Comments" by Howard P. Siegel.  Letters from Fred Hembeck, Rich Hauser, Bart Bush, and Dan McAvoy.
Ads for: 
7:38 #1
A FANZINE #2
ALTER EGO #10
AMRA
ANOMALY #2
BEST OF WEIRD SCIENCE-FANTASY
CAPTAIN BILJO  PRESENTS #2
CAPTAIN GEORGE'S COMIC WORLD
CAPTAIN GEORGE'S WHIZZBANG
COMICS COMMENTARY #1
FAN INFORMER #20
FANDOM ANNUAL #1
FANTASTIC FANZINE #11
FUTURA #9
I'LL BE DAMNED #1
PARAGON ILLUSTRATED #1 and 2
ROCKET'S BLAST SPECIAL #7
SPA FON #5
SILVER STARR IN THE FLAME WORLD 
THE COLLECTOR (various issues)
THE COMIC ARTIST #1, 2 and 3
THE COMIC CRUSADER #8
THE COMIC WORLD #12 (published by Robert Jennings)
THE GOLDEN AGE #3, 4 and 5
THE GUARDSMAN OF INFINITY
Steranko's THE HISTORY OF COMICS #1
THE ILLUSTRATED COMIC COLLECTORS HANDBOOK #3
YESTERYEAR #1
and Richard Corben's ad selling posters in support of FANTAGOR #1.
Editorial features include:
"CRITIQUE" fanzine and comix reviews by Mark Burbey, Andy Warner, John Ellis, and James Van Hise.  "The Cisco Kid Lives," reprinted from the Los Angeles Times.  "SF IN REVIEW" by James Van Hise.  "RBCC INFORMATION CENTER" by Raymond Miller.  "COMIC COLLECTOR'S COMMENTS" by Howard P. Siegel, including a FANDOM PROFILE of fanzine collectors John & Tom McGeehan.  "THE KEYHOLE" by Hamilton Benedict.  "THE WILLIAMSON COLLECTOR" by James Van Hise and Larry Bigman.  Letters from Max Allan Collins and Larry Johnson.
Ads for:
ALTER EGO #10
BADTIME STORIES
COSMIC CREATION #1 
CHRONICLE #3
EAST COAST COMIX EC reprints
EC LIVES!
ETCETERA #1
FANTASTIC EXPLOITS #15 thru 23
FANTASTIC FANZINE #12
FIRE #1
HERITAGE Vol. 1, #1B
LONG TOM'S AMERICANA COMIX 
PARAGON #4
PHANTASMAGORIA #3
PHASE #1
PORTFOLIO OF SKETCHES by Vaughn Bode
SERIAL PICTORIAL Vol. 1 thru 8
STAR-STUDDED COMICS #18
THE BEST OF I LUV COMICS
THE BUYER'S GUIDE FOR COMIC FANDOM
THE MIRK-WOOD TIMES
THE MONSTER TIMES
THE OVERSTREET COMIC BOOK PRICE GUIDE #2
UNCLE BARNEY'S COMIX