Mike Stengl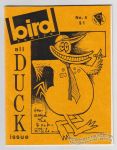 All-duck issue of this bird-themed comics anthology. Edited by David Tosh.
Appearances by Donald Duck, Huey, Louie & Dewey, Daffy Duck, Doodles Duck, Super Duck and Rubber Duck.
1st printing: Slice o' Life, 1986, 150 copies
2nd printing: Ozone Press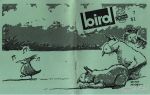 Bird-themed comics anthology. Contains a short-but-informative article, "A Brief History of Bird Comics and Ozone Press".
Cardstock covers
There may be more contributors than listed above.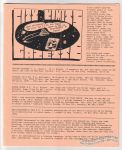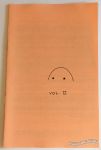 Collection of the popular "Bil Keane Watch" feature by various folks that originally appeared in Steve Willis' City Limits Gazette newsletter.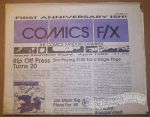 In this issue: Bruce Sweeney interviews Spain, Bruce Chrislip on Cartoon Loonacy, an editorial by Steve Willis called "Turning Sacred Cows into Hamburger", Mary Fleener on the Exquisite Corpse drawing game, columns, comic strips and more.
Roughly 11¼ x 16¾"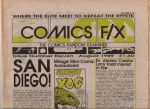 Contents include: "Comix Wavola" by Clay Geerdes (Part One: The Origin of the Eight-Pager), Bruce Sweeney's "Underground Station", B.N. Duncan interviews Carol Tyler, comic strips, reviews, news, etc.
11½ x 17"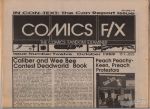 Contents incude: Clay Geerdes' "Comix Wavola" (Part Two: The Origin of the Seven-Center), Bruce Sweeney's "Underground Station" (with logo by Bryan Talbot), con reports, comic strips, reviews, more.
11½ x 17"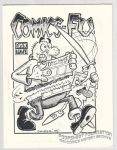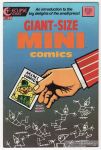 This issue was edited/compiled by Larry Marder.
28 pages plus covers.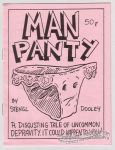 Actually Maximum Traffic #100. Some work is borrowed from the original publication.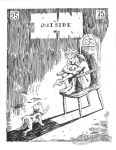 Outside In was a long-running series that collected artist self-portraits. Originally begun by Steve Willis, this issue is from the Edd Vick / Hal Hargit run.

This issue also contains an alphabetical index to all artists in the first 25 issues of the series.

MUP #067.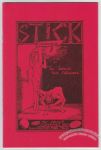 Sexually explicit jam comic with a circus theme.
There may be one more contributor not listed above ("Dave"?).