Mike Symes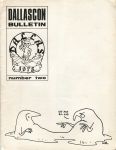 Contents include bid endorsements from Fritz Leiber and others, talk about the local scene, photos and more. Edited by Tom Reamy (Trumpet) and Rosemary Hickey.

Also contains illustrated ads for Carl Gafford's Minotaur, Differo (with a Steve Ditko Mr. A drawing), Gary Acord's Wotta World, Riverside Quarterly, Star-Studded Comics (with a beautiful Bruce Berry drawing) and others.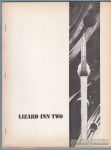 SF fanzine. Contents include: cover by underground comix artist Larry Todd (Dr. Atomic); "Why I don't Live in a Men's Dorm, or, Oh Those Nights of Collating"; letters from Hank Davis, Mike Glicksohn, Harry Warner Jr. and others; fanzine reviews; columns; more.
Offset, side-stapled.