Rick Corlett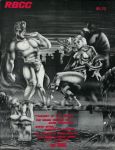 Editorial features include:
Cover by Ron Wilber.  Back cover by Kerry Gammill.
A reprint of "Stretching Things" written by Bruce Hamilton and drawn by Steve Ditko, from Fantastic Fears #5 (1954). 
"Steve Ditko, Master of Mystery" by James Van Hise. 
A Steve Ditko cover gallery. 
"Notes on Ditko's Spider-Man and Other Outcasts of Society" by Frank Latimer. 
"Don Rosa's INFORMATION CENTER" by Don Rosa. 
"CRITIQUE" fanzine and comix reviews by Mark Burbey, and JVH.  "Twilight of the Heroes" by Ron Wilber. 
"The Weird Worlds of Basil Wolverton" by JVH. 
"Star Bored!, or How a Good Idea Got Really Mucked Up" by JVH. 
"THE KEYHOLE" by Gary Brown. 
"COMIC COLLECTORS COMMENTS" by Howard P. Siegel. 
"THE PERTWILLABY PAPERS" by Don Rosa.  
"COMICOPIA" by RC Harvey.
"BLASTS FROM THE READERS" with a letter from Roy Thomas.  
Ads for:
CHICAGO'S GRAPHICS REVIEW #1, 2
CINEFANTASTIQUE Vol. 7, #1
EAGLESTAR #2
ECSTACY OBLIVION #3
ENTERPRISE INCIDENTS #1 thru 5
FANDOM DIRECTORY
GOLDEN AGE COLLECTOR #1, 2, 3
INFAMOUS FUNNIES #1
QUESTAR #1
SPACE FANTASIES  #1
SUPERZINE
THE FRIENDS OF ODDKIN (Wally Wood)
TREK #10