You are here:  

Home

>

Neil Riehle
Tom Yeates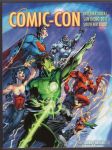 Contents include pieces on the history of comics fandom (with many fanzine profiles and scans), Lee & Kirby, anniversary tributes (Fantastic Four, Antonio Prohias' Spy vs Spy, comics in 1986, Watchmen, Dark Horse Comics, SLG, Bone), more.

Appearances in art by Fantastic Four, Justice League of America, Stan Lee, Jack Kirby, Galactus, the Watcher, Avengers, Inhumans, Black Panther, Sub-Mariner, Silver Surfer, Dr. Doom, Mole Man, Annihilus, Skrulls, Hulk, Spy vs Spy, Batman, Rorshach, Dr. Manhattan, the Comedian, Maus, the Joker, Boba Fett, Hellboy, Ghost, Predator, Concrete, Usagi Yojimbo, Groo, Conan, Willow, Alien, R2-D2, C-3PO, Stormtrooper, Milk & Cheese, Dr. Radium, Bone and more.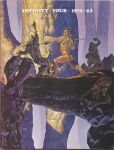 Features interviews with Mike Kaluta, Steve Harper.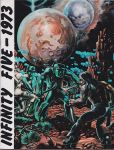 Features interview with Richard Corben.  A color print by Bernie Wrightson ("The Cryptics") was inserted as a bonus.