Star Trek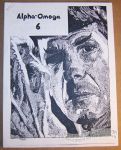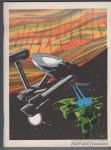 Contents include: interview with Walter Koenig (Ensign Chekov); "Star Trek Revisited" article; production drawings for the Star Trek animated series; three articles on the Captain Marvel family, villains and 1940s serials; one-page profile of Kurt Schaffenberger; a Collector cover gallery; two pages of Zero Hero by Harvey; four-page Steve Ditko comic; "A Short History of Pulp Fandom" article; "The Heroes of Nostalgic Literature: Pulps vs Comics" article; article on the resurrection of Will Eisner's Spirit; article on the Perry Rhodan series; 10-page Greenhorn comic by Hanley; letters (Bill Gaines, others); more.
Characters include: William Shatner/Captain Kirk, Leonard Nimoy/Mister Spock, Nichelle Nichols/Lt. Uhura, USS Enterprise, the Demon, Superman, Captain Marvel, Sivana, Captain Marvel Jr., Mary Marvel, Superman, Mr. Mind, the Shadow, Doc Savage, the Spirit, Lightray, Darkseid, Mister Miracle, Big Barda, Alley Oop
Offset, some interior color, saddle-stitchd.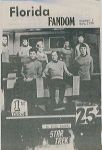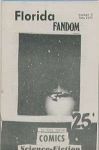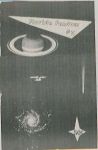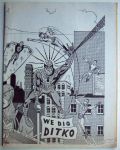 Interview with Alberto Giolitti.
Editor: Mike Main.
[Note: At least one image in this entry was found online (probably at an auction site) and saved for personal use. And then the Database project came along! If you recognize your image we'd like to have your permission and would love to give you credit for your work. Please contact us through Site Info > About in the main menu up top.]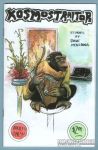 Second issue in this series with a different spelling for the title each time.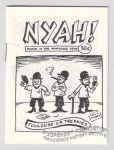 Puns and more puns with references to Star Trek, Toulouse-Lautrec, Abbot & Costello and Oliver Hardy.
2¾ x 3½"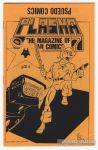 United Fanzine Organization memberzine.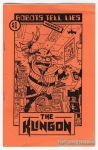 Excerpted prose from the then-upcoming Robots Tell Lies short story anthology.
Numbered edition of 53 published for the Stumptown Comic Fest 2010.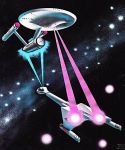 Editorial features include:
Cover by Morris Scott Dollens.
A newspaper article about Star Trek from 1966. 
"Star Trek — The Way it Was" by James Van Hise.  "Interview with Leonard Nimoy" reprinted from LA Free Press dated July 13, 1973. 
"WOOD'S WORLD," reprinting Chapter 3 of "An Earth Man on Venus" from the 1951 Avon comic of the same title. 
"CRITIQUE" fanzine and comix reviews by Mark Burbey, Orlando Falcon, and JVH. 
"THE WILLIAMSON COLLECTOR" by Larry Bigman and JVH.  "PULPS — ERA OF ADVENTURE" by JVH.  "COMIC COLLECTOR'S COMMENTS" by Howard P. Siegel, including a FANDOM PROFILE of Bill Wilson (The Collector). 
"RBCC INFORMATION CENTER" by Raymond Miller.  An open letter from Theo Holstein, who made the much publicized sale of ACTION #1 to Mitch Mehdy.  
"BLASTS FROM THE READERS" with a letter from Duffy Vohland.  
Ads for: 
BADTIME STORIES
BIG LITTLE BOOK CATALOG/PRICE GUIDE 1973
CINEFANTASTIQUE Vol. 3, #1
COMIC BOOK PRICE GUIDE 3rd edition
EAST COAST COMIX EC reprints
FANDOM ANNUAL #3
FANTASTIC FANZINE #12
FAVORITE FUNNIES
FEM FANTASTIQUE
GJDRKZLXCBWQ COMICS (Basil Wolverton)
GOLDEN FUNNIES
JEFF JONES PORTFOLIO (Middle Earth)
LONG TOM'S AMERICANA COMIX 
MIDDLE EARTH PRESENTS: Frank Frazetta Lords of the Rings Portfolio
MIDDLE EARTH PRESENTS: King Kull Portfolio Two by John & Marie Severin
PHASE #1
REMEMBER WHEN
SWORD AND FANTASY
THE COMPLETE MARVEL COMIC CHECKLIST (published?)
THE JASOOMIAN #10
THE SPIRIT (11 x 16 inch limited edition) from Tabloid Press
THE SPIRIT #1, 2 (Kitchen Sink)
UNIVERSE #1
WHIZ #1 reprint
Paid ad section with articles from INSIDE COMIX.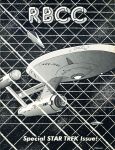 Star Trek issue.
Editorial features include:
Cover by Mike McKenney.  Back cover by Stephen Fabian.
"RBCC INFORMATION CENTER" by Don Rosa. 
"The Cage / The Menagerie — A Comparison" by James Van Hise.   "Where No Man Has Gone Before" by JVH. 
"Star Trek, Beyond the Pilots" by JVH. 
"An Evening with Gene Roddenberry" by JVH. 
"THE KEYHOLE" by Gary Brown. 
"THE PERTWILLABY PAPERS" Part Two, by Don Rosa. 
"CRITIQUE" fanzine and comix reviews by JB Clifford Jr and JVH.  
"DELL COMICS ARE GOOD COMICS" by Jeff Gorrell and Sandy Soares.  
"BLASTS FROM THE READERS" with a letter from JB Clifford, Jr.
Ads for:
CINEFANTASTIQUE
ERBDOM #80
FOOPGOOP FROLICS: Wolverton portfolio
PHANTASMAGORIA #4
STAR TREK '74
THE ADVENTURES OF THE CYCLONE (Kerry Gammill)
THE JAMES BOND DOSSIER (published?)
VALLEY OF THE CLIFFHANGERS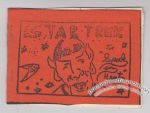 Star Trek spoof in a Tijuana Bible format.
What Is This Site?
A virtual archive of mini-comics, fanzines, small press comics, newave comix and related items. The physical archive, housed at PF headquarters, is being built with personal acquisitions as well as generous donations from supporters. This project is most definitely a work in progress.