pulps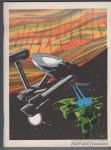 Contents include: interview with Walter Koenig (Ensign Chekov); "Star Trek Revisited" article; production drawings for the Star Trek animated series; three articles on the Captain Marvel family, villains and 1940s serials; one-page profile of Kurt Schaffenberger; a Collector cover gallery; two pages of Zero Hero by Harvey; four-page Steve Ditko comic; "A Short History of Pulp Fandom" article; "The Heroes of Nostalgic Literature: Pulps vs Comics" article; article on the resurrection of Will Eisner's Spirit; article on the Perry Rhodan series; 10-page Greenhorn comic by Hanley; letters (Bill Gaines, others); more.
Characters include: William Shatner/Captain Kirk, Leonard Nimoy/Mister Spock, Nichelle Nichols/Lt. Uhura, USS Enterprise, the Demon, Superman, Captain Marvel, Sivana, Captain Marvel Jr., Mary Marvel, Superman, Mr. Mind, the Shadow, Doc Savage, the Spirit, Lightray, Darkseid, Mister Miracle, Big Barda, Alley Oop
Offset, some interior color, saddle-stitchd.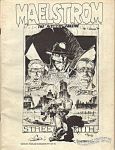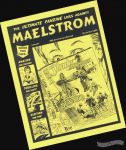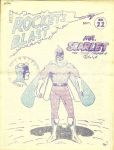 All-ditto issue.  (5 pages blank.)
Editorial features include:
Mr. Scarlet cover by Buddy Saunders.   "THE FEATURE" profiles Bob Harner 3rd.  "THE BEST OF S-F" — Bob Harner 3rd reviews "Glory Road" by Robert Heinlein.  "ROCKETEER GOSSIP" by Rick Weingroff.  "Flesh & Blood of the Ink" — article on pulps by Alan Simons.  Interior illos by Raymond Miller.   "LETTERS TO THE EDITOR" from John McGeehan, Bernie Bubnis, Tom Lauria, Bill Spicer, Marc Nadel, Alan Simons, Paul Gambaccini, and Rick Weingroff. 
Ads for:
SUPER STAR #1
CHARACTER GET TOGETHER #1 (from Vern Debes)
STAR STUDDED COMICS #2
FIGHTING HERO #5
MASK & CAPE #2
JEDDAK #2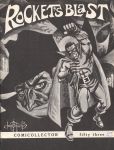 Editorial features include:
Cover by John Fantucchio.
"A Howl is Heard Through the Heavens" by Tom Fagan.   Article reprinted from Tucson Daily Citizen, Feb. 25, 1967: "Rich Lode in Old Comics." 
Article reprinted from Richmond Times Dispatch: "Comic Strip Character Being Created Here" about Graphic Showcase, publisher Tom Long,  and artists Mike Kaluta, Steve Harper, Steve Hickman, and Mike Cody. 
"THE ODDITY PAGE" by Raymond Miller. 
"BLASTS FROM THE READERS" with a letter from Duffy Vohland.
Ads for:
ADZINE 
ALTER EGO #7 and 8
ANTARES (sci-fi fanzine)
BOMBSHELL #9, 10
BULLETIN #4
COLLECTOR'S CORNER
COMIC FANTASY #1
COMIC SHOWCASE #1 (published?)
COMIC VENDOR #5
COMICS UNLIMITED
CONCUSSION #1, 2
COSTUMED HERO BONANZA
ERBDOM #20, 21
FANDOM ANNUAL #1
FANDOM CALLING #5
FANDOM-ONIUM #2 
FANTASTIC FAN FICTION #1
FIGHTING HERO COMICS Special Edition #1
FLASH COMICS SPECIAL (Raymond Miller)
FORBUSH #1
GOSH WOW #1
MASQUERADER #6
ON THE DRAWING BOARD #62
QUANTUM #1, 2
ROCKET'S BLAST SPECIAL #1 and 7
SCREEN FACTS MAGAZINE
SENSE OF WONDER #1
SERIAL QUARTERLY
SERIAL PICTORIAL
STAR-STUDDED COMICS #6, and 11
THE COLLECTOR #1 and 2
THE COMIC BLASTS #1-4
THE EYE #1
THE INNOVATOR #1
TRI-FAN #2, 3
ULTRA VIRES (published?) 
WONDERMENT #3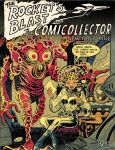 Editorial features include: 
"RBCC: The Return" by James Van Hise.  "Steve Ditko in the 1950s" by JVH.  "The EC Fanzines: The Second Generation" by JVH.  "Sea of Blood" (comic strip) by Ron Wilber.  "The Art of Comics" by Gil Kane.  "Orson Welles: Pulp Writer?" by JVH, Nils Harden, Sam Moskowitz. "Highlights on the Shadow: A Folio of Art by Edd Cartier from the Shadow Pulp Magazine."   
Articles illustrated with art by Jack Davis, Steve Ditko, Reed Crandall, Al Williamson, Frank Frazetta, John Severin, Wally Wood, John Fantucchio, John Pound, Al Feldstein, Gil Kane, Alex Raymond, Hal Foster, Burnets Hogarth, Rudy Nebres, and Margaret Brundage.  
Ads for:
DOC SAVAGE INSIDE & OUT
PULP MAGAZINE THRILLERS
RBCC Vol. 2, #2
STREETWISE (TwoMorrows)
SUNDAY COMICS (PureImages)
THE FANTASTIC WORLD OF H.P. LOVECRAFT
WALLY WOOD - THE SKETCH BOOK (Vanguard)
and YE OLDE FANZINE SHOPPE
Ads from comics sellers:
RICHARD FRAZIER
ROBERT BEERBOHM COMIC ART
What Is This Site?
A virtual archive of mini-comics, fanzines, small press comics, newave comix and related items. The physical archive, housed at PF headquarters, is being built with personal acquisitions as well as generous donations from supporters. This project is most definitely a work in progress.