Jim Korkis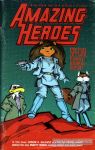 Edd Vick interviews Steve Gallacci, "Why a Duck?" (36 cartoonists on why they deal in funny animals), Rowrbrazzle portfolio section, letter from James Pugh looking for fan artists.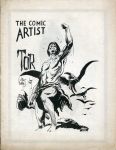 Joe Kubert issue, featuring articles about Kubert characters, and an interview with Kubert.
Characters in art include: Tor, Angel, Anthro, Hawkman, Buffalo Bill, Crimebuster, Viking Prince, Volton, Thor
Offset, saddle-stitched.
Possibly one more contributor: Grant (?)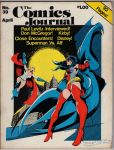 Interview with Paul Levitz, "The San Francisco Comix Scene" by Clay Geerdes.
Roughly 8¼ × 11"
United Fanzine Organization memberzine.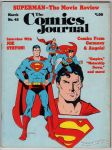 Interview with Joe Staton, indepth review of Superman: The Movie.
Roughly 8¼ × 10¾"
Other artists: Klinger (first name unknown), T. Herzog and Daly (first name unknown; Sam de la Rosa?).
Some writers/artists listed above were in the issue's list of contributors but may not be credited by the piece. It's a bit perplexing as some of the artists I can't match to art.
United Fanzine Organization memberzine.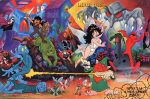 ANIMATION issue.
Editorial features include:
Wrap-around cover by Wendy Pini.
"On Building a Future For Comics: An Open Letter to Marvel" by Charles Rozanski. 
"A Chronology of the Modern Age American Comic Book: 1956-1967" by Howard P. Siegel. 
"Triumph of a Dreamsmith (Walt Disney's Fantastia)" by David Yates. 
"A Brief Look at the Films of Donald Duck" by Jim Korkis. 
"CRITIQUE" fanzine and comix reviews by Mark Burbey, Vernon Clark, and James Van Hise. 
"The Fantastic Fleischer Superman" by JVH.  "Wizards — An Overview" by JVH. 
"A Few Words on 'Wizards'" by Wendy Pini. 
"George Pal's Puppetoons" by Jerry Beck. 
"Don Rosa's INFORMATION CENTER" by Don Rosa. 
"COMICOPIA" by RC Harvey. 
"BLASTS FROM THE READERS."
Ads for:
ANDROMEDA #4 and 5
ARCHIVAL PRESS books (Back For More, Spacehawk, Miss Fury)
CANNON by Wally Wood
CLAY GEERDES' COMIX WORLD
DRAGONFLAME by Don McGregor
ENTERPRISE INCIDENTS #7
FANTASTIC EXPLOITS Vol, 2, #1
HELLO FROM SAN DIEGO by Rick Geary
HEMBECK: THE BEST OF DATELINE
KIRK'S WORKS  — An Index of the Art of Tim Kirk by George Beahm
MARVELOUS FRUIT & VEGGIES PORTFOLIO by Richard Bruning
MISS FURY
POWER CHORD ROCK COMICS #1
SCHANES & SCHANES Art Portfolios
SPACEHAWK by Basil Wolverton
STELLAR GAS #1
STAR FIGHTERS #1
TELEVISION by Rick Geary
THE BODE BROADS PORTFOLIO by Vaughn Bode
THE WIZARD KING by Wally Wood
T'KUHTIAN PRESS publications (WARPED SPACE, THE FANZINE REVIEW 'ZINE, and others)
WHIZZARD SPRING COMIC SPECIAL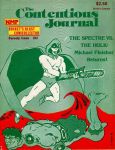 This was the final issue, until Van Hise resumed as both editor and publisher with a "New First Issue" in May 2000.
PARODY issue, with parodies of THE COMICS JOURNAL and STARLOG.
Editorial features include:
Cover by John Turek.  
"What's So Funny About Comics?" by Robert Strauss. 
"MAD Index 1-23" by Bill Hansen and Dan Ciminelli. 
"The Truth About Pirate's Gold" (about the Donald Duck story by Carl Barks) by Jim Korkis. 
"The Case of the Bogus Avery" by Jim Korkis. 
"Captain Kentucky: The Comic is Put Back Into Comic Strips" by James Van Hise. 
"CRITIQUE" fanzine and comix reviews by Robert Strauss, Vernon Clark, and JVH. 
"THE OLD BOOKDEAL'R — GUD BOOX" by Stephen Bissette.  "COMICOPIA" by RC Harvey. 
"MARK BURBEY'S INTERVIEW," featuring a transcript of a radio interview with Moe Howard. 
"The Three Stooges in Nuclear Knuckleheads" by Mark Burbey, Richard "Grass" Green, and Eddie Eddings.  
(The Three Stooges material in this issue was from a one-shot Stooges fanzine Mark Burbey was putting together, but was never published because Norman Maurer required a $2500 licensing fee to proceed.)
Ads for:
ENTERPRISE INCIDENTS 
MONSTER INVASION Portfolio by Jim McDermott and Steve Fiorilla
PORTIA PRINZ
What Is This Site?
A virtual archive of mini-comics, fanzines, small press comics, newave comix and related items. The physical archive, housed at PF headquarters, is being built with personal acquisitions as well as generous donations from supporters. This project is most definitely a work in progress.