Roy Thomas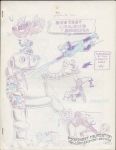 Edited by Jerry Bails and Roy Thomas.
Several printings (1961, 1963 and 1964 at least).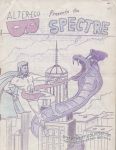 Edited by Jerry Bails and Roy Thomas.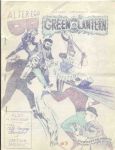 Edited by Jerry Bails and Roy Thomas.
Interview with Bill Everett.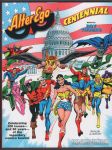 Roy Thomas on DC in the '80s; origins of Alter-Ego; tributes; The 1964 Super Hero Calendar; Fawcett Collectors of America; more.

Perfectbound book.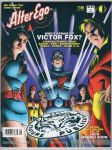 Articles on Victor Fox, the 1939 Superman/Wonder Man controversy, Jack Mendelsohn, letterer Abe Kanegson and Captain Marvel.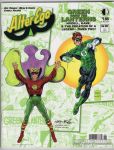 Green Lantern history, interview with Mart & Carrie Nodell, interview with Jack Mendelsohn, interview with Betty Tokar ("the woman who probably inspired Betty Cooper"), letterer Abe Kanegson, interview with Rudi Franke, more.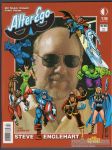 Interviews with Steve Englehart and George Mandel; Jim Miele; letterer Abe Kanegson; salute to fans Joe Vucenic and Ed Lahmann; Fawcett Collectors of America; more.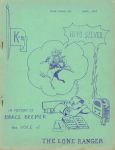 Membership includes Jerry Bails, Paul Gambaccini, Daniel Alderson, John and Tom McGeehan, Glen Johnson, Richard Kyle, Marc Nadel, Pete Jackson, David Kaler, Duncan Robertson, Howard Keltner, Al Kuhfeld, Elliot Brill, Ronn Foss, John Ryan, Dennis Richard, Paul Moslander, Roy Thomas, Fred Patten, Raymond Miller, Phil Castora, Richard Weingroff
Applicants include Derrill Rothermich, Joseph Wehrle, Coreen Casey, Richie Benyo, Gary Behymer, Don & Maggie Thompson
Cover by Jerry Bails
Contributions include Agent X Reporting (Bails), Index to Periodical Literature #2 (Brill), Checklist to First Heroic Age #2 (Keltner), ROY-al Ramblings #1 (Thomas), Listen Here #4 (Gambaccini), Heavy Water #3 (Patten), Shmoz #2 (Castora), Hints: Repro with Spirit Duppers (Bails), Sounding Off (Kaler), Wandering Miner #1 (Rothermich), The World of Ryandom #2 (Ryan), Summation of K-a #1-3 (Alderson), By-Laws of CAPA-alpha (Bails), Membership Roster (Bails)
Reproduction by ditto and mimeograph
Back cover by Jerry Bails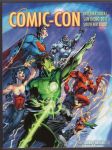 Contents include pieces on the history of comics fandom (with many fanzine profiles and scans), Lee & Kirby, anniversary tributes (Fantastic Four, Antonio Prohias' Spy vs Spy, comics in 1986, Watchmen, Dark Horse Comics, SLG, Bone), more.

Appearances in art by Fantastic Four, Justice League of America, Stan Lee, Jack Kirby, Galactus, the Watcher, Avengers, Inhumans, Black Panther, Sub-Mariner, Silver Surfer, Dr. Doom, Mole Man, Annihilus, Skrulls, Hulk, Spy vs Spy, Batman, Rorshach, Dr. Manhattan, the Comedian, Maus, the Joker, Boba Fett, Hellboy, Ghost, Predator, Concrete, Usagi Yojimbo, Groo, Conan, Willow, Alien, R2-D2, C-3PO, Stormtrooper, Milk & Cheese, Dr. Radium, Bone and more.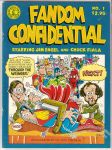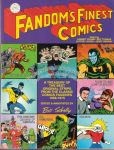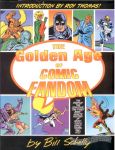 Introduction by Roy Thomas.
[Note: At least one image in this entry was found online (probably at an auction site) and saved for personal use. And then the Database project came along! If you recognize your image we'd like to have your permission and would love to give you credit for your work. Please contact us through Site Info > About in the main menu up top.]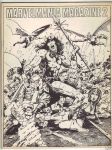 Fanzine from the Marvel Comics fan club.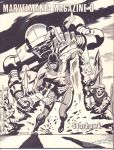 Fanzine from the Marvel Comics fan club.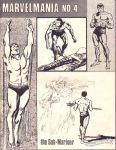 Fanzine from the Marvel Comics fan club.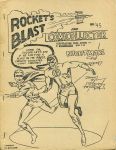 Editorial features include:
Nightmare & Sleepy cover by Rich Buckler.  "ROCKETEER GOSSIP" by Rick Weingroff.  "SEULING'S CORNER" by Phil Seuling. 
"SNIPER'S NEST" by Tom Fagan.  "FOUR" by Ray Miller, dealing with four consecutive issues of a Golden Age title.  "THIS 'N' THAT" by Louis Black.  Reprint of a newspaper article on comic collector Gene Arnold.
"BLASTS FROM THE READERS" with letters from Roy Thomas and Mike Raub. 
Ads for:
ALTER EGO #5, 6, 7, and 8
AMRA
BOMBSHELL #3
COMICLUB NEWS #3, 4
FANMAG ILLUSTRATED #1 
FANTASTY ILLUSTRATED #5
FIGHTING HERO COMICS 
GOLDEN AGE #1 and 2
ILLUSTRATED COMIC COLLECTORS HANDBOOK #1, 2
INSIDE INFO (pamphlet)
MASQUERADER #6
ROCKET'S BLAST SPECIAL #5 and 6
RBCC ANNUAL #1
STAR-STUDDED COMICS #6
THE CARTOONIST
THE INCAS TIMES 
THE WORLD OF FOSS (Ronn Foss; published?) 
THE EYE #1
TRUMPET #4
WOW #2
What Is This Site?
A virtual archive of mini-comics, fanzines, small press comics, newave comix and related items. The physical archive, housed at PF headquarters, is being built with personal acquisitions as well as generous donations from supporters. This project is most definitely a work in progress.