1982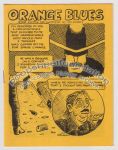 Available in two variations: orange covers with blue interiors and blue covers with orange interiors.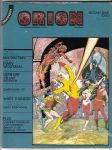 Interviews with Marv Wolfman and Gene Day.
Edited by Mark Shainblum.
There may be more contributors than listed above.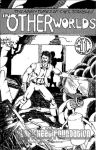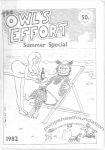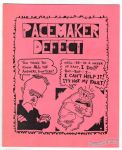 Morty the Dog stars in the surreal main feature, "Just One Damn Thing After Another!".
Card stock covers.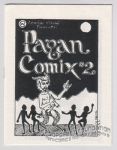 Pagan-themed illustrations by Jane Oliver (Tales of Jerry).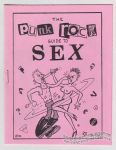 Good-natured (I think), absurd lampoon of punk rockers.
#1602 in Jay Kennedy's Official Underground and Newave Comix Price Guide.

Roughly 4 × 5" (this may vary)
1st printing of 100 copies?
Most of Holman's gags in this one go the parody route with Ronald Reagan as a Goon (as in "Alice the Goon"), a Zippy the Pinhead cameo, and both Santa Claus and Dick Briefer's Frankenstein as punks.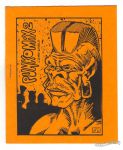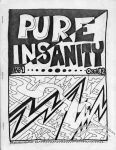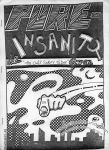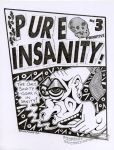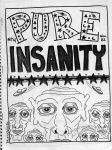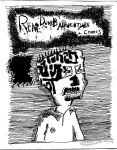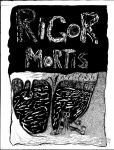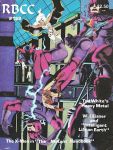 James Van Hise remains as editor, but publishing has been assumed by New Media Publishing.
Editorial features include:
Cover by Ron Wilber.
"The Mutant Handbook" by Kurt Busiek and Scott McLeod. 
"Intelligent Life on Earth" (review of Will Eisner's "Life on Another Planet") by Robert Strauss. 
"CRITIQUE" fanzine and comix reviews by Robert Strauss, and James Van Hise. 
"The Empire Strikes Mitch" by Ken Mitchroney. 
"Metal and the White Boy's Cool" (about Ted White's tenure at Heavy Metal) by Robert Strauss. 
"The Return of the Lone Ranger" by JVH. 
"Megacon Blues," strip by Doug Potter. 
"An Interview with Mike Friedrich" by Gerald Brown. 
"The Invasion of the Body Snatchers" (book/movie/book/movie review) by JVH. 
"Weird Tales: Back from the Dead and Needing a Facelift" by JVH.  "Have Broom, Will Travel" (a review of Broom-Hilda" Life Begins at 1500" by JVH.   
Ads for:
COMICS FEATURE
ENTERPRISE INCIDENTS 
MONSTER INVASION Portfolio by Jim McDermott and Steve Fiorilla
PORTIA PRINZ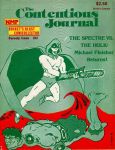 This was the final issue, until Van Hise resumed as both editor and publisher with a "New First Issue" in May 2000.
PARODY issue, with parodies of THE COMICS JOURNAL and STARLOG.
Editorial features include:
Cover by John Turek.  
"What's So Funny About Comics?" by Robert Strauss. 
"MAD Index 1-23" by Bill Hansen and Dan Ciminelli. 
"The Truth About Pirate's Gold" (about the Donald Duck story by Carl Barks) by Jim Korkis. 
"The Case of the Bogus Avery" by Jim Korkis. 
"Captain Kentucky: The Comic is Put Back Into Comic Strips" by James Van Hise. 
"CRITIQUE" fanzine and comix reviews by Robert Strauss, Vernon Clark, and JVH. 
"THE OLD BOOKDEAL'R — GUD BOOX" by Stephen Bissette.  "COMICOPIA" by RC Harvey. 
"MARK BURBEY'S INTERVIEW," featuring a transcript of a radio interview with Moe Howard. 
"The Three Stooges in Nuclear Knuckleheads" by Mark Burbey, Richard "Grass" Green, and Eddie Eddings.  
(The Three Stooges material in this issue was from a one-shot Stooges fanzine Mark Burbey was putting together, but was never published because Norman Maurer required a $2500 licensing fee to proceed.)
Ads for:
ENTERPRISE INCIDENTS 
MONSTER INVASION Portfolio by Jim McDermott and Steve Fiorilla
PORTIA PRINZ