Anthony Kowalik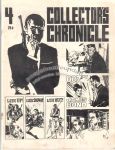 Contents include: "James Bond Code 007" feature article with plenty of photos by Folo Watkins; "The Masque of Broom Hilda" interview with cartoonist Russell Myers by Lund; "UFO's & Aliens: Fact or Fiction" article by Richard G Balaam; "Reminiscences" column by Andrew J Offutt; "Fan Scope" interview of Raymond Miller by Lund; "The Ghastly Business of Dick Tracy's Villains" article by Shel Dorf; "Mole Man: Mad or Mistreated?" by Neal S Pozner; "Rachel Welch. The Cinema, Nudity & Sex: Dirty Words?" article by Gerry Clifford; poetry by Lund and Balaam; "What Gives?" column with fanzine plugs and comments by Lund; Ad for San Diego's Golden State Comic Con 1971; Letters from John McLaughlin, Andrew Offutt, Neal Pozner; Ad for Fantagor 1 with Richard Corben's Kansas City, Missouri address.
32 pages, offset, wraparound cover.

Publisher Will Lund notes: "Richard G. Balaam was a collective pseudonym used by a few fans involved with Comic Con at that time. I don't recall who wrote what, and sometimes it was more than one writer."
Special thanks to Aaron Caplan for the detailed info on contents and contributors.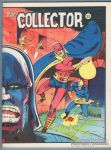 Contents include: "The Real Jack Kirby" article; "Jack Kirby: All Father Man" article; "Green Beam" comic (Green Lantern/Flash spoof) by Hanley; funny animals/Carl Barks article; profile of artist Donald Wong; The Flying Dutchman article; a memorial to Pittsburgh talk show host Ed King; crossword puzzle; letters; more.
Characters appearing include: Darkseid, Guardian, Mister Miracle, Big Barda, Captain Marvel/Tom Tyler, Warlock, Captain America, Red Skull, the Shadow, T.H.U.N.D.E.R. Agents, Dynamo, NoMan, Menthor, Superman, Batgirl, Spider-Man, Dr. Strange, Batman
Offset, some interior color, saddle-stitched.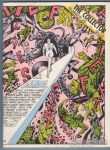 Contents include: six-page Mr. A comic and wraparound cover; biography of Ken Barr; a Tarzan art portfolio; a John Fantucchio portfolio (with color centerspread); "The By-Products of Adventure" (radio drama); biography of Joe Sinnott; a "Greenhorn" comic by Hanley (Marvel/DC parody); a brief interview with C.C. Beck; a gorgeous 10-page Hyperman comic; letters (Al Hewetson, Kenneth Smith, Joe Kubert, others); more.
Characters include: Batman, Tarzan, Superman, Deadman, Lone Ranger, the Old Witch (EC Comics), Captain Marvel, Captain Marvel Jr., Cthulhu, Doc Savage
Offset, some interior color, saddle-stitched.