Bill Sienkiewicz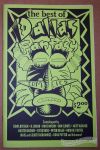 Collects work from Dallas Fantasy Comics (souvenir mini-comic of the Dallas Fantasy Fair) and Dallas Fantasy Fair Mini-Comics Workshop minis.

It also includes Tosh's autobiographical "Dinner with Crumb" story and a number of jam comix pages by artists like R. Crumb, Spain Rodriguez, Gilbert Shelton, Denis Kitchen, Bill Sienkiewicz and others.

There are a few contributors I'm not sure about:
-- "KH"
-- "Roe" (Charles Roe?)
-- "Cavazos"
-- unknown (the piano wire flossing illo)
-- "CLJ"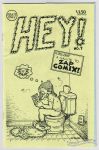 Zap Comix tribute issue. Contents include a centerspread "paste-up phunny" collage piece featuring Zap imagery and a jam comic by D. Tosh, Denis Kitchen, Bill Sienkiewicz, Don Simpson, Larry Marder, Mark David Dietz and Mark Stokes.
There may be more contributors than listed above.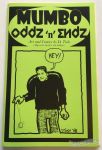 Printed in a flipbook format where half of the book is work by Tosh and the other half is full of jam comix by Tosh and others.

Cardstock cover.