Dick Memorich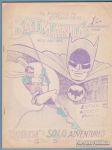 Batman-themed fanzine. Contents include: article on Robin's solo stories in Star Spangled Comics; address list of Batmanians; full-page ad for Biljo's The Eye #1; Batman-related sightings in the media; more.
Characters in fan art include: Batman, Robin, Crazy Quilt, Dante Leonardo
Ditto/mimeo, side-stapled.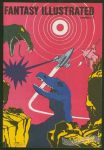 [Note: At least one image in this entry was found online (probably at an auction site) and saved for personal use. And then the Database project came along! If you recognize your image we'd like to have your permission and would love to give you credit for your work. Please contact us through Site Info > About in the main menu up top.]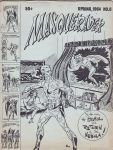 Final issue.
Len Wein's contribution is a short interview with Jack Kirby.