Doug Wildey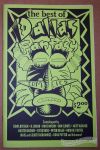 Collects work from Dallas Fantasy Comics (souvenir mini-comic of the Dallas Fantasy Fair) and Dallas Fantasy Fair Mini-Comics Workshop minis.

It also includes Tosh's autobiographical "Dinner with Crumb" story and a number of jam comix pages by artists like R. Crumb, Spain Rodriguez, Gilbert Shelton, Denis Kitchen, Bill Sienkiewicz and others.

There are a few contributors I'm not sure about:
-- "KH"
-- "Roe" (Charles Roe?)
-- "Cavazos"
-- unknown (the piano wire flossing illo)
-- "CLJ"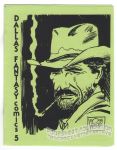 Dallas Fantasy Comics was a souvenir mini-comic David Tosh (Hey!, Scratchface Doodlehead, Dinner With Crumb) used to produce at the Dallas Fantasy Fair comic book conventions. The contents were solicited, produced and turned in during the show and the mini-comix would be available for sale by the final day of the show.